Value-added services in logistics allow businesses to provide more comprehensive benefits, which has become an essential tool in increasing customer satisfaction. Using these services is especially vital in operations based on customer trust. Supply chain and logistics are some of the most competitive sectors and adding value can give your organization an edge.
What is a Value-Added Service (VAS)?
The term value-added services refer to the additional distribution and warehousing services offered by third-party logistics providers to business looking to outsource their supply chain operations.
Whenever logistics providers add value the right way, it affects the level of customer satisfaction, while indirectly increasing their bottom line. Service providers know the ins and outs of the business and they can assist companies in responding to customers' needs. Companies partnering with value-added logistics providers can focus on their core business and work on being more competent in the market. Value-adding is not a one-time task — it requires continuous maintenance and 3PLs are working toward providing value-added services in conjunction with their more traditional offerings.
Adding value to your packaging and transportation process can give your company an edge in the market and enable you to stand out from the competition. Service providers offer a range of contributions that add value to your brand, but how do they do that? And is it advantageous? Let's look at some offerings and how they can benefit your organization.
Enhance Your Supply Chain with Value-Added Services
Elevate your supply chain performance by leveraging value-added services that deliver exceptional value to your customers.
How Do Value-Added Services Help Improve the Supply Chain?
Forward-thinking companies use their supply chain to gain market share and get ahead of their competitors. Spending time and resources to keep this supply chain smooth has become a notable trend in the logistics industry. Forward-thinking entrepreneurs work toward maintaining supply chain excellence, and it has become a widely accepted business strategy in today's market. Value-added logistics services are not only for customers but also for management. Consider these reasons behind the importance of common supply chain value-added services.
1. Increased Price Pressures and Competition
Previously, brand recognition and product features were more than enough to set companies apart but things have shifted. After commoditizing several products in the market, organizations need better methods to stand apart.
Brand equity and product innovation are no longer the only tools that can allow a business to set a higher selling price. Staying in the competition and emerging on top will require a redesign of supply chains and traditional methods.
Companies are using two methods to adapt to this trend. First, they assess cost-reduction strategies and create new techniques to build a more efficient value chain. These changes will allow them to retain a competitive edge. Second, companies are searching for strategies to provide value-added services that will enable them to meet savvy customers' demands.
2. Outsourcing
As the market evolves, many companies are taking a step back to evaluate their core competency and some organizations realize that outsourcing part of the supply chain can be beneficial.
The marketplace continues to revolve around three pillars:
Cost and quality of global manufacturing and distribution
Information mediums and systems
Product design capabilities
By outsourcing their supply chain and logistics operations, companies can breathe new life into their business. Still, without the correct systems, processes or organization management, the risk can rise to unmanageable levels. When their business model relies too heavily on outsourcing, companies must implement solutions to make up for off-site supply chain capabilities. The need for details becomes the foremost priority in an outsourced logistics environment.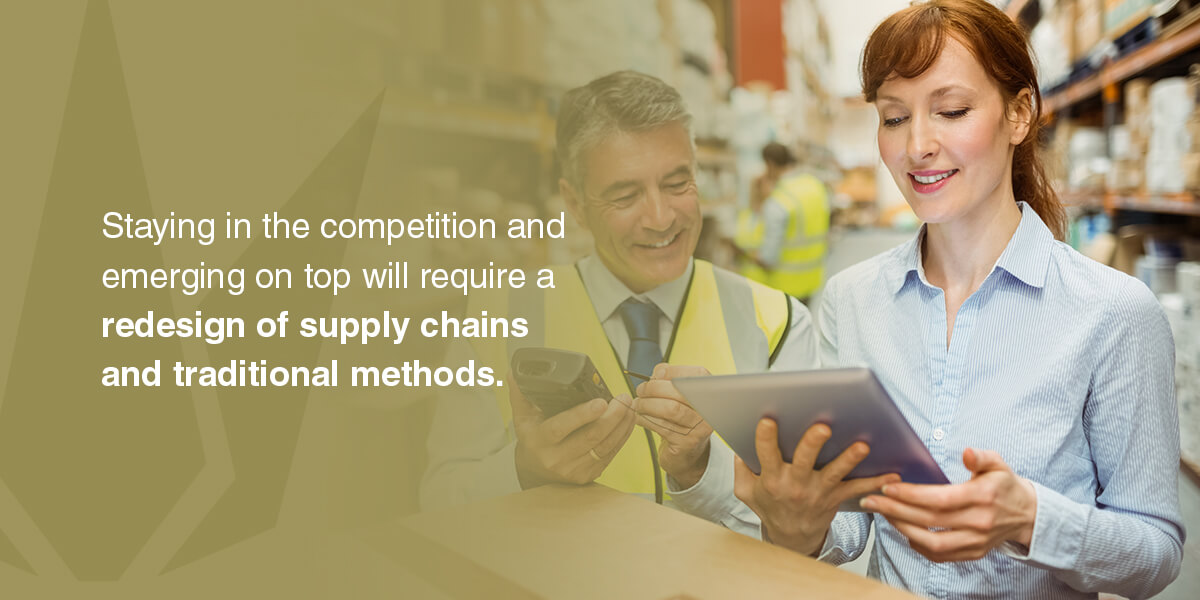 3. More Complex and Shortened Product Lifecycles
Companies are under significant pressure to develop cutting-edge products and launch them to market quickly, without maximizing or compromising the integrity of their high-demand existing products. To meet this ever-growing need, companies require streamlined product lifecycle management processes, which emphasize new product launches, product discontinuation and design.
The primary benefit of product lifecycle management technology and processes is that it helps companies design products that can share components, operations or materials — reducing the risk of obsolescence write-offs, ensuring optimal use of all infrastructure investments and limiting increased costs when buying essential materials. In addition to all these benefits, it will also shorten the time to market. Companies can focus on product lifecycle management efforts in all these areas and buffer themselves against the risk of any unexpected cost increases, spontaneous obsolescence write-offs and underwhelming product launches. These practices will also enhance customer perception of your company and establish yourself as an innovative reformer.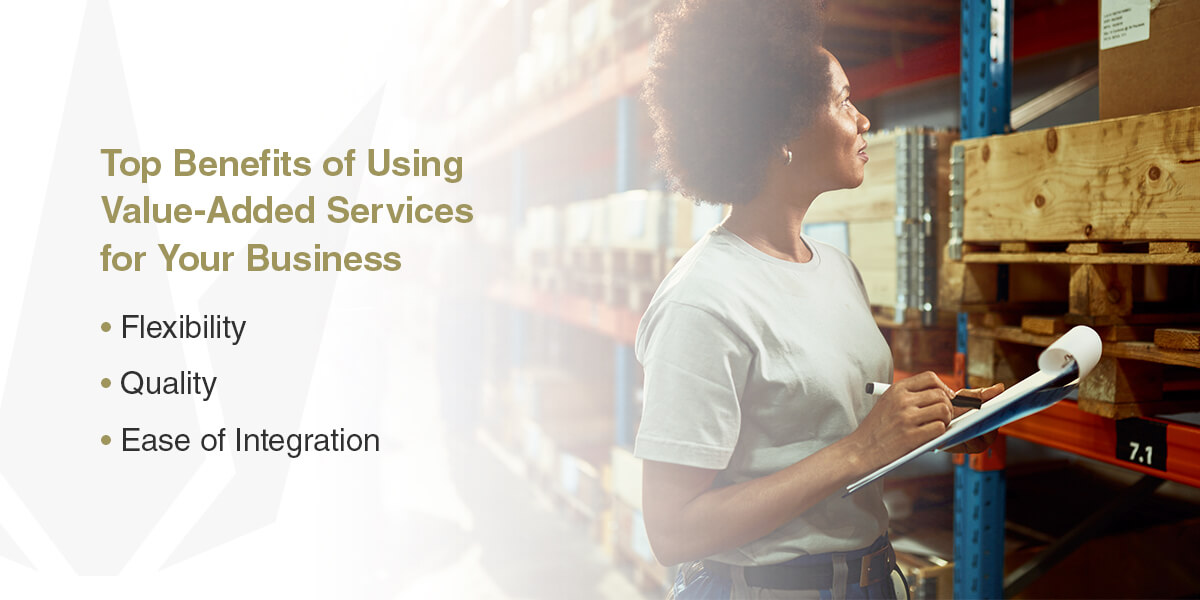 Top Benefits of Using Value-Added Services for Your Business
You can find several positive reasons to consider a 3PL provider for value-added logistics services. Here are a few notable benefits of value-added services that can readily translate to a competitive advantage for your business.
1. Flexibility
The most significant benefit of using a 3PL provider is flexibility. Partnering with them will allow you more flexibility in labor, space and equipment. They can offer all these components to enable you to meet your customers' requirements more effectively. Some 3PL providers also offer extra physical space for a specific time as a value-added service, which could be a warehouse for storing rush inventory or a meeting space for discussing on-the-fly software updates. Labor resources are also available as part of value-added services. If any of your product campaigns require a more hands-on approach to attract your audience's attention, a 3PL can quickly shift their staff to your project and keep your labor cost to a bare minimum.
2. Quality
A 3PL's added-value services department is primarily a team of specifically trained staff who can assist you in executing specialized projects. With the assistance of a dedicated professional team working or overseeing any customization, you can focus on quality and work efficiency. The value-adding team provided by a trusted 3PL provider might collaborate with customers. They can outline the project, ensure accuracy and precision and take the necessary steps to complete the project on time.
3. Ease of Integration
Partnering with a 3PL provider's value-added services enables the seller or company to work with one partner for all their logistics needs. A reliable 3PL can assist you in managing warehousing, transportation and all the value-added services you need. This help can make the process more seamless to integrate any updates or changes along the way. Keeping the product in a single fulfillment center can also minimize the cost of moving products and transportation.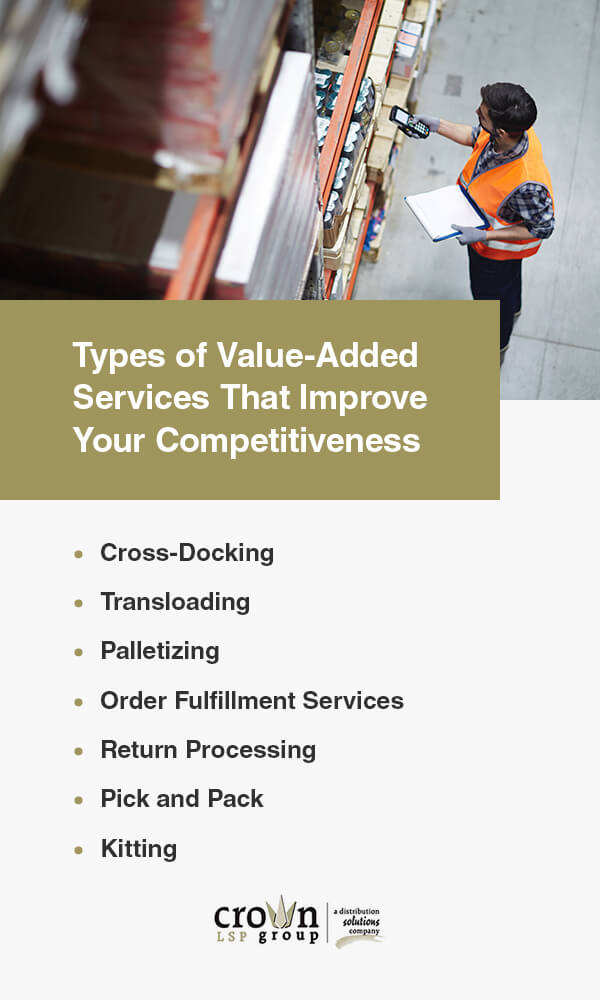 Types of Value-Added Supply Chain Services
In warehousing and distribution, value-added services go further than normal operations and can set you apart from your competition. Among these types of activities are cross-docking, transloading, palletizing, kitting, and return processing.
Here are some value-added service examples that decrease your costs and impact your business operations.
Cross-Docking
A cross-docking system allows companies to move products directly from the receiving dock to the shipping dock. This streamlined method saves space and eases manual handling in the distribution center. Cross-docking requires close synchronization of all outbound and inbound shipping movements and reduces the cost by decreasing stockpiling. Cross-docking also involves re-packing, inspection and labeling.
Transloading
The process of transloading requires more than one transport mode. Businesses primarily use this solution when one mode of transport, like land, air or sea, is insufficient to deliver the goods from the origin point to the destination. International shipments, which require multiple modes of transportation, are the best example of transloading. The international shipment process usually begins by air or sea, followed by a truck.
Transloading lets you arrange and sort the shipments before delivering them to the distribution center or warehouse. This streamlined process removes any expensive or unnecessary land transportation. All shipments get grouped upon arrival, eliminating the need for any distribution center.
Transloading also enables your business to save money by removing any less-than-truckload costs. In addition to benefiting the companies, the process is also speedier, thus bringing your customers more satisfaction. You can reach different areas with transloading by using various local and international shipment methods, increasing business possibilities and growth.
Palletizing
In palletizing, you place items or goods on pallets. Depending on the business and product, you may use manual, semi-automated or fully automated methods to put the shipments on pallets. Moving palletized products is more efficient, with a quicker delivery turnaround. With palletizing, you can move perishable goods faster and decrease the risk of spoilage. The palletizing process also reduces labor requirements.
With standard pallet sizes, you can optimize warehouse workflow and operations. Palletizing significantly reduces the risk of worker injury. Since the pallets are more durable than other shipping containers, they can allow you to carry more products at a single time.
Order Fulfillment Services
Order fulfillment services provide the highest customer satisfaction among all the value-added services, and it is one of the top value-added services in logistics. These services can simplify your supply chain and allow you to move your products faster. The order fulfillment services can help you delight your customers with a streamlined process and faster deliveries. This service includes in-house packaging with the latest technology tools. Order fulfillment services perfectly handle labeling and new product launches. When you employ a trusted partner's help, you can increase your efficiency in handling operations and save a substantial amount of money on purchasing and maintaining expensive equipment.
Return Processing
Returns can cause financial and logistics problems, but they are an unavoidable part of doing business. Returns can require substantial effort and time and sometimes companies can get themselves in trouble trying to handle them. With value-added services, you can outsource your return processing. These service providers have dedicated warehouses and ample personnel to process and manage the returns as required. When a return arrives, workers scan it into the system to determine whether it's possible to resell. Quick action can keep your business reputation intact and monitor the return patterns for insights.
Pick and Pack
Pick and pack is part of the order fulfillment process, but sometimes you need to pay some extra attention to ensure uniform packing and delivery of all products. A pick-and-pack service can streamline all your packages and deliver them before the expected date. Value-added service providers have the latest technology that assists them in finding the best route and double-checking the delivery address to reduce any chances of mistakes.
Kitting
The kitting process includes combining multiple products into a simple and easy-to-pick package. The process works in many ways, whether it's banding two similar items or creating an integrated solution by pairing two commonly purchased products. This solution can significantly reduce transportation costs and delivery time. It can also slash your company's combined costs.
What Are Customized Value-Added Service Solutions?
Value-added services can transform your supply chain, but it is not a one-size-fits-all solution. Service providers must understand a supply chain's business model and weak spots. With an effective solution, you can optimize your supply chain's operations.
Besides solving logistical challenges, an expert service provider can also provide other long-term benefits. Customized value-added services can build delivery models that will improve inventory and transportation costs, enhancing your operations and saving time and money.
Value-added service solutions can work on distribution channels to address your company's trucking capacity and assist you with time-sensitive deliveries. Service providers can offer consultations and innovative solutions to address your trade landscape and warehousing requirements.
A significant benefit of customizing value-added services is an improvement of the supply chain by finding discrepancies in the process and taking corrective measures to improve them, so you can focus on customer satisfaction by providing optimum services.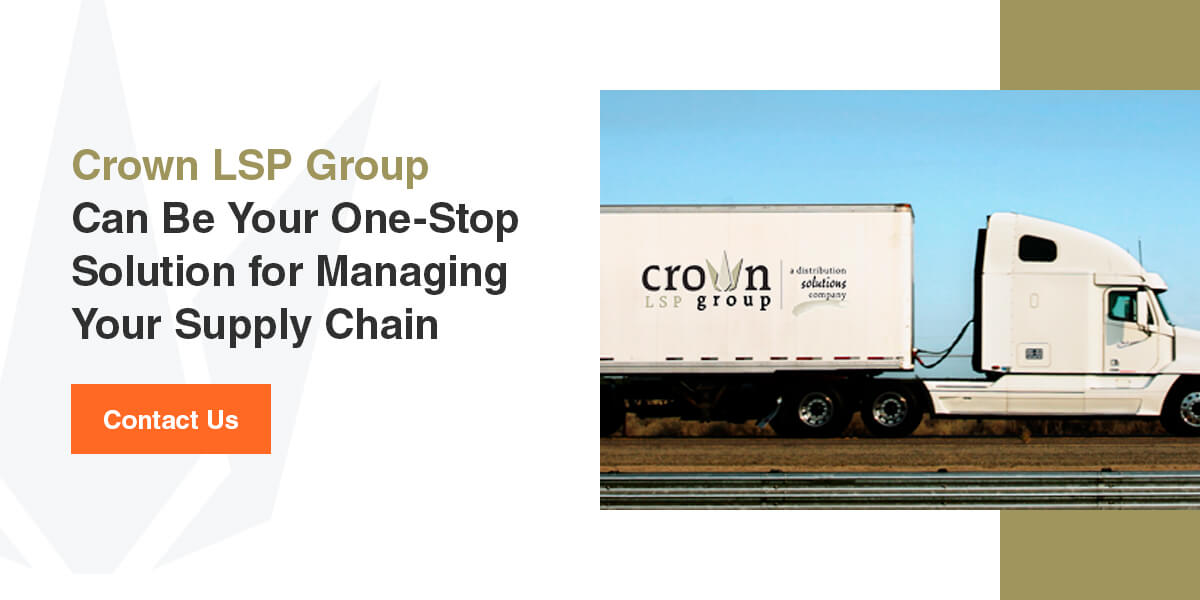 Choose Crown LSP for Managing Your Supply Chain
When you go toe-to-toe with your competition, it's essential to partner with service providers who take care of your fundamental requirements while offering insights on distribution best practices to help you stand out from the competition. Being able to offer value-added services has become the latest norm in the constantly evolving market. Partnering with a reliable logistics service provider is paramount in optimizing your supply chain and distribution channel. Your partner should understand your business's unique needs and deliver on them to achieve quantifiable results.
At Crown LSP Group, we can assist you with our value-added offerings and establish your business in the market. Take a look at the wide range of solutions we provide and get in touch with us for a customized value-added solution.