Your operations and logistics are unique and specialized to your business. That's why you need an asset-based transportation service that works to fit your schedule and accommodates your specific transit shipping needs.
At Crown LSP Group, we are a family-owned company with years of industry experience and the highest level of customer service values. We will walk with you throughout the process from transit to warehouse storage and delivery so you can put your trust in a single provider. If you want an all-in-one logistics and distribution solution, then the asset-based transportation service from Crown LSP Group is for you.
Want to partner with a family-owned asset-based freight carrier? Reach out and request a quote today!
What Is an Asset-Based Carrier?
Asset-based carriers are companies that provide truckload services to individual shippers. These types of trucking companies are reliable because they own the equipment shipping your freight. In other words, there's no outsourcing involved when you hire an asset-based freight carrier.
In a traditional freight broker setup, the broker subcontracts all or part of the operation. For example, the freight broker might subcontract the truck driving service to one third-party and warehouse storage to another. In asset-based trucking, the carrier takes the place of the middleman because they own and operate the trucks used to transport goods from one location to another. In many situations, asset-based transportation is more cost-effective and reliable because you can directly deal with a single company for all of your freight needs.
Typically, asset-based providers are limited when it comes to other logistics services, as they only offer transportation for freight and other goods. However, Crown LSP Group goes a step further as we can provide warehouses, distribution services, and more to develop a unique strategy for your needs.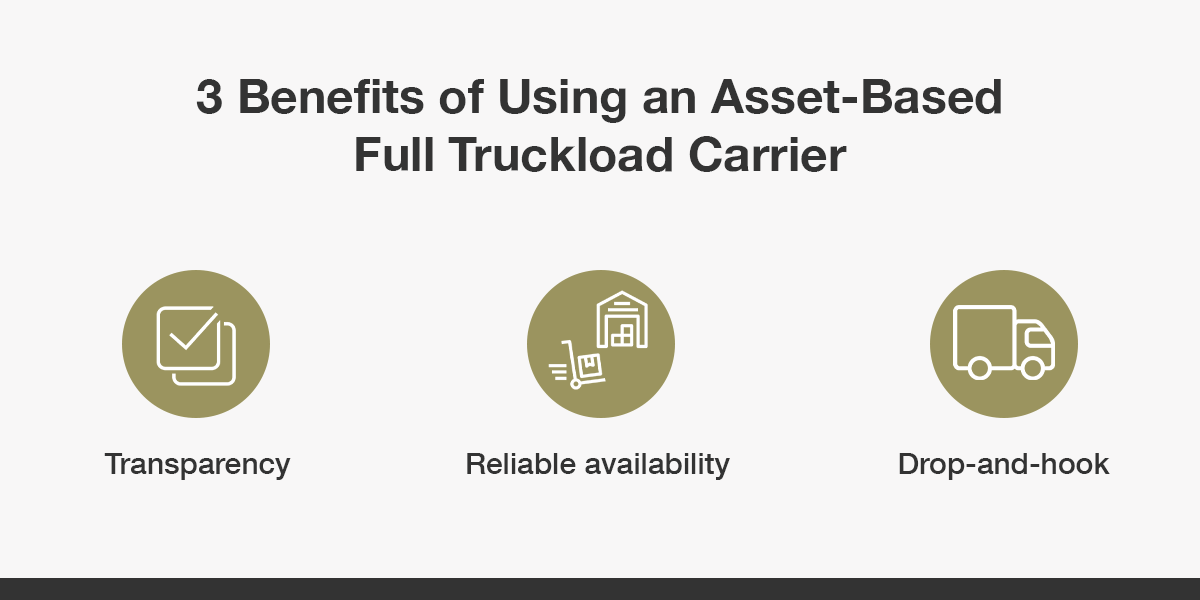 3 Benefits of Using an Asset-Based Full Truckload Carrier
Every company is looking to optimize its logistics to stand a step above the marketplace. These specific benefits show why partnering with an asset-based carrier is a competitive advantage:
Transparency: In a traditional freight broker relationship, the customer may not have access to much information on all of the third parties transporting their freight. Asset-based transit allows the customer to make better-informed decisions since information on a single provider is easier to access.
Reliable availability: High demand can cause stiff competition for third-party trucks and warehouse space during peak seasons. An asset-based full truckload carrier can provide both the trucks and storage space for their clients because they control the operations.
Drop-and-hook: Drop-and-hook means that the truck driver delivers and picks up pre-filled freight rather than waiting hours for the crew to refill the truck. Most freight brokers don't control a large enough fleet to offer drop-and-hook services, so asset-based carriers have a unique advantage.
Why Choose Crown LSP Group as an Asset-Based Carrier?
Crown LSP Group is a distribution solutions company with over 30 years of experience completing projects faster, cheaper, and with higher quality.
We bring several benefits to boost your business:
Reliable customer service: Crown LSP Group has family-owned values and a firm belief in integrity. Our team will flex to meet your business, no matter what you need.
Industry experience: Crown LSP Group has decades of experience as an asset-based carrier to offer your company. We know what works and what will slow down the process so your business can take the fast track to distribution success.
High capacity resources: Crown LSP Group is a one-stop shop for local, regional, dedicated, full truckload, over-the-road, and less than truckload (LTL) services. We'll scale to meet your specifications with customization to get the job done right.
Contact Crown LSP Group for Your Asset-Based Transportation Solutions
Crown LSP has comprehensive distribution solutions to bring your logistics to the next level. You can trust four decades of family-owned, high-quality service.
Ready to find asset-based transportation and third-party logistics partner? You can contact us online with questions or request a quote to begin the journey to better transit today.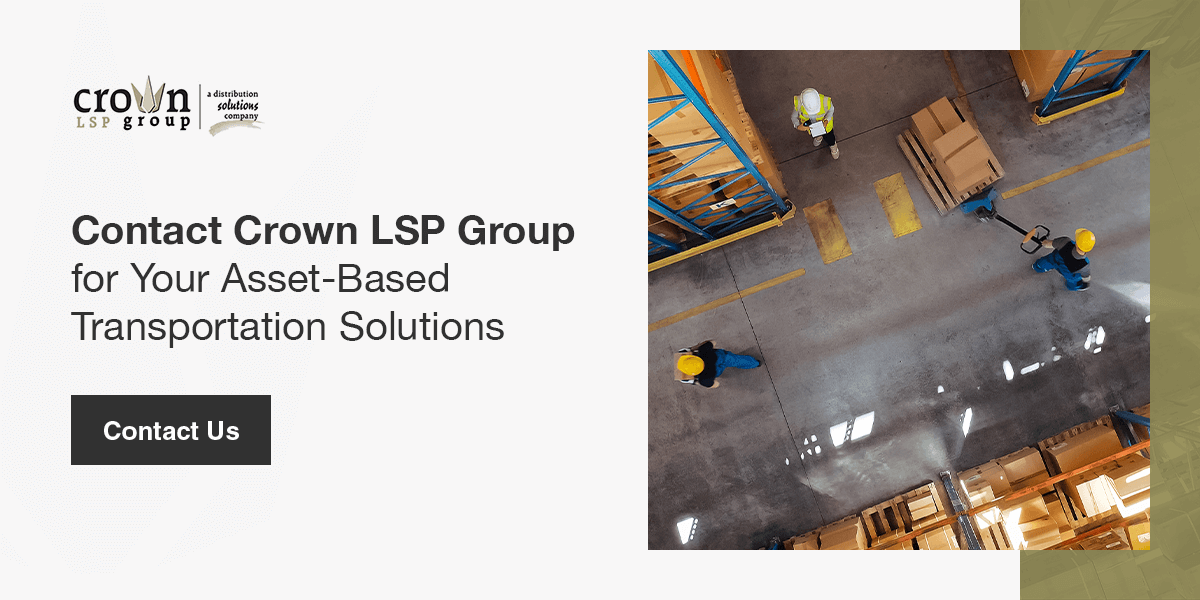 ---
Get in Touch
Request a quote today, and let us know how we can help you!