When handling product shipments going through multiple cargo units, you need the right solutions to manage operations accurately and efficiently. With packages changing hands numerous times, you may face an increased risk of damage to the products or materials. Transloading freight management can be complicated, so 3PL transloading options could save you time and costs in the long term.
If you're looking for transload services you can trust to help get your shipments safely to their destinations, choose Crown LSP Group. We offer various services to meet your operational requirements, whatever supply chain processes you may be managing. When you work with us, you can get distribution solutions that simplify your processes and ensure efficient handling and transportation of goods.
Our Transloading Services 
At Crown LSP Group, our experienced team is ready to handle transloading facilities' applications and ensure your products get safely to their destinations. Whether your products are coming from a port and need to get onto a train or you're moving goods from a vehicle to a warehouse, we can help you make the process smooth and efficient.
Benefits of Transloading 
Getting transload services offers multiple benefits for your operations, including:
Flexibility. Transloading options give you multiple ways to reach different regions, whether they're coming by sea or land.
Cost savings. When you're managing long-distance shipments, transloading allows you to select different shipping options based on your requirements at competitive prices, giving you more control over your expenses.
Operation consolidation. With the diverse shipping options transloading provides, you can consolidate your packages and transport them more efficiently in the right vehicle for the job.
Shipping efficiency. You can ship directly from a transloading facility to a customer when you have transloading services and warehousing options in crucial regions, providing the most direct route possible from storage to the client.
To double your benefits, you can bundle your transloading needs with our palletization service if your product is typically floor-loaded and coming off of containers from overseas. By adding a palletization service to your transloading service, you will experience faster loading and unloading, resulting in high transport efficiency while reducing manual product handling down the supply chain line.
What Makes Crown LSP Group Stand Out
Crown LSP Group is a family-owned third-party logistics provider dedicated to meeting your needs. We go beyond a cookie-cutter approach to develop customized solutions to fit your unique needs. Whatever your operational requirements, we'll work to accommodate your hours, consumer demand, and other conditions. We're here to help simplify your supply chain processes, streamline operations and boost your overall productivity at your facility.
When you need a trusted solutions provider for your requirements, turn to Crown LSP Group. We have the expertise, capabilities, and creative solutions to meet your needs with flexibility and personalized assistance. We aim to handle your goods with the same care you would, so you can rest assured that every product is in good hands. We're a dependable business partner for your logistics and transportation needs.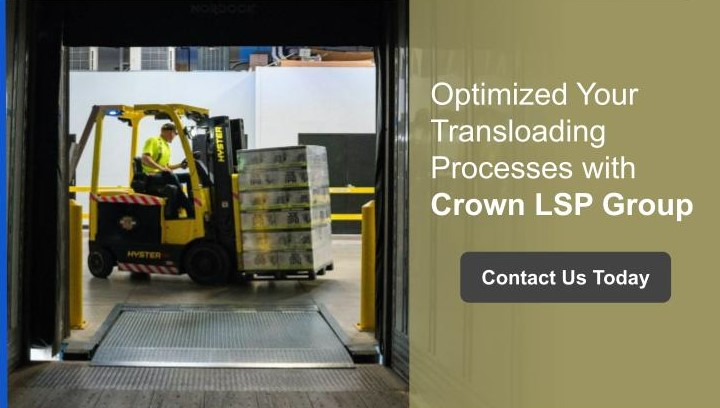 Optimize Your Transloading Processes With Crown LSP Group's Solutions
Working with Crown LSP Group delivers the solutions you need to work more efficiently while enjoying cost savings and personalized services. Choose us as your trusted service provider, and we'll handle your requirements so you don't have to.
If you'd like to find out more about how we can partner with you, reach out to us today.
---
Get in Touch
Request a quote today and let us know how we can help you!