If you work in the supply chain industry, you know the importance of having secure storage locations for your products. It's essential to have sufficient stock to handle unexpected circumstances such as difficulties with importing goods or shortages. When you need outsourced solutions for long-term warehousing, let us work with you to deliver the right services for your operations.
Contact Us For More Information
What Is Long-Term Warehousing?
Long-term storage is a warehousing service that's typically longer than three months. Whether your supply chain operations require months or even years of storage, having a third-party long-term warehouse space can allow you to maintain a safety stock for long periods and readily access it when you need to. Long-term distribution services require careful storing of your items, so storage providers will offer solutions to protect your products and supplies.
Product Types Requiring Long-Term Storage
Many different products across industries may need long-term storage solutions, from consumer packaged goods to equipment and building materials. Items that commonly require storage for extended lengths of time include:
Bulk materials. When you order large quantities of raw materials or products, such as textiles, appliances, pharmaceuticals or medical equipment, you may need to store them for long periods until you need them.
Seasonal products. If you have a selection of seasonal products, such as apparel, consumer packaged goods or home goods, that will be available for a limited time, you can use long-term storage to keep seasonal inventory in order before the date arrives.
Old documentation. Old paperwork and records may not be something you want taking up space in your operational facility, but these documents could be crucial to have available. To handle this requirement, you can use secure long-term storage for your documentation.
Inventory Overruns. If you are overproducing products, then you will want to find a space to warehouse your excess inventory. Overruns can also occur due to inaccurate work orders.
What Makes Crown LSP Group Unique?
Crown LSP Group is proud to be a family-owned third-party logistics company deeply invested in serving our customers and community. Our teammates serve with several nonprofits in the community, including Kiwanis International and United Way, as well as local churches and food banks. When it comes to our business, our dedication to serving customers reflects our care for the community. We go beyond a one-size-fits-all approach to develop solutions that match your unique requirements.
With flexible, scalable solutions for your industry needs, Crown LSP Group is here to help you save on storage costs and enhance your operational efficiency. Our goal is to be your business partner, and we're ready to serve you in any way we can. When you work with us, you can feel confident you'll receive customized solutions that work seamlessly with your operations. Whatever your needs, we can coordinate with you to keep your supply chain systems running optimally.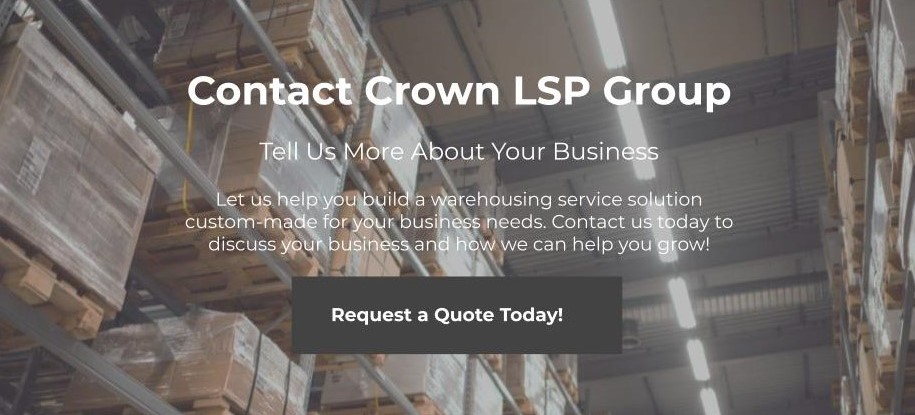 Choose Us for Customized Warehousing Solutions
Let Crown LSP Group provide the long-term warehousing services you need to ensure you can deliver goods to your customers efficiently and smoothly. Whatever your industry, work with us to find the right solutions for your needs.
For more information on our long-term warehouse and distribution offerings, reach out to us today.[/vc_column_text][/vc_column][/vc_row]
---
Get in Touch
Request a quote today and let us know how we can help you!