A Trusted 3PL in Blacksburg, SC
Crown LSP Group is an experienced third-party logistics (3PL) firm serving the Blacksburg, South Carolina, area. We go beyond the norms of a cookie-cutter approach to 3PL. When you work with us, you'll benefit from customized strategies to optimize your company's storage and distribution workflows. We'll collaborate with you to understand your challenges and goals and develop tailored solutions to meet them.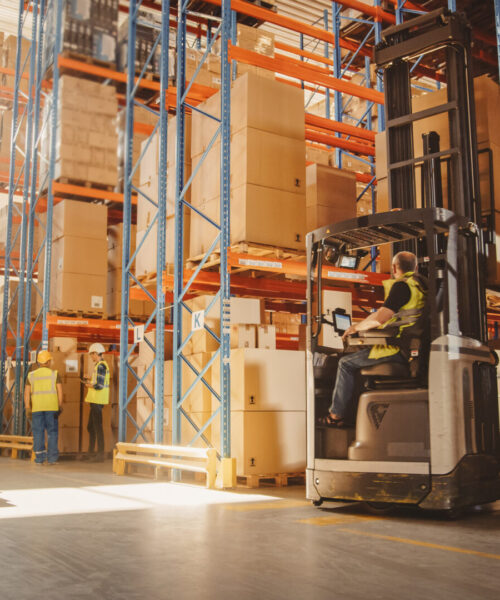 Why Choose a Warehouse and Distribution Center in Blacksburg, South Carolina?
There are many reasons to consider adding distribution and warehousing in Blacksburg with Crown LSP Group.
Proximity to Transportation Services
Blacksburg lies in upstate South Carolina, just 4 miles from the North Carolina border. The area is close to many major intermodal transportation hubs, making it an ideal place to establish operations.
The town is just 38 miles from Charlotte Douglas International Airport, ranked among the top 10 best-connected global airports. The facility handled over 200,000 tons of cargo in 2022. Blacksburg is also 46 miles from the Greenville-Spartanburg International Airport, which saw more than $5 billion of freight pass through in 2021.
Intermodal rail-to-semi transit is equally accessible to the city. Inland Port Greer is less than an hour's drive from Blacksburg along I-85, making it an ideal rail delivery stop for goods arriving at the Port of Charleston. The yard offers next-day container availability and makes the Charleston-to-Greer journey six days a week.
Blacksburg's proximity to I-85 also means easy access to additional ports. The Port of Virginia at Norfolk is one of the East Coast's largest, and it's a 4.5-hour drive away. Rail service is available from this port as well. North Carolina's Port of Wilmington connects by train with the Charlotte Inland Port, just over 45 miles northeast of Blacksburg.
Financial Friendliness
Blacksburg boasts a low cost of living and no state property or local income taxes. Those factors mean we can price our 3PL services competitively for more cost-effectiveness. Additionally, the state has attractive programs that help keep more money in your company's pockets. For example, there is no state tax on business inventory.
Growth Potential
Both the town and the state are investing heavily in Blacksburg's infrastructure. These projects include widening nearby Interstate 85 and revitalizing the downtown area to support economic development. The town has plenty of growth potential to support your own progress.
What to Expect From Our 3PL Services in Blacksburg
One of the primary benefits you get from working with Crown LSP Group for 3PL is cost efficiency. Our warehousing services are an alternative to acquiring or building your own facility. You'll gain extra savings because there's no need to hire and manage a local workforce — we'll take care of that, too.
We also provide value as a one-stop shop for additional services. Our team has the skills and resources to help you lower freight costs, optimize transit routes and implement other solutions to save you even more.
Expect benefits like:
Dependable solutions: We're a responsive company with a successful history dating back decades. Our workforce consistently puts reliability and customer satisfaction at the forefront to earn your business every day.
Customized strategies: No two businesses are alike. At Crown LSP Group, we'll take a consultative approach to craft the best solutions for you.
Enhanced agility: Our service range is entirely flexible and scalable to meet your organization's needs. Take advantage of new opportunities as they arise — we'll adapt to your business's requirements.
Cutting-edge technology: We invest in the most current tools to offer your company the latest technology. Our advanced systems and software drive process improvements and efficiency across the supply chain.
A core focus: Partnering with us means you don't have to know everything about logistics. With access to our expertise, you can focus on what you do best.
Partner With Crown LSP Group in Blacksburg, South Carolina
Our family-owned business has delivered the many benefits of outsourced logistics support since 1987. We pride ourselves on being a trusted distribution solutions provider to companies in many sectors. Our proven approaches and services help these organizations see a more immediate return on their investment.
Whatever your logistics needs in Blacksburg, Crown LSP Group is here to help. Let's discuss how we can devise a customized and cost-effective strategy that aligns with your goals and requirements. Call us at 252-985-1070 or reach out online to get started.