Temperature-Controlled Warehousing in NC
If you have a specific temperature storage requirement product, figuring out the best way to store it can be challenging. Save time, money, and resources by letting Crown LSP handle the challenge of setting up and maintaining a temperature-controlled warehouse environment for your inventory.
What Is Temperature-Controlled Warehousing?
A temperature-controlled warehouse is a storage facility that maintains a specific temperature range by either heating or cooling the space. Temperature-regulating units are placed strategically around the warehouse to meet the requirement of temperature-sensitive products.
Warehouse Temperature Ranges Explained
The desired temperature range will vary depending on the requirements of the products, the 3PL provider and the location of the warehouse. Typically, products are stored in four different temperature ranges:
Ambient: Products are stored at room temperature between 59°F to 86°F. This is usually the natural temperature of the warehouse.
Cool: Refers to the temperature range between 50°F to 59°F.
Refrigerated: Used when storing products that need to be in temperatures between 32°F and 50°F to maintain their freshness.
Frozen: Goods are stored in a warehouse space below 32°F to preserve their quality over a longer time span.
Your 3PL provider will carefully monitor the temperature in the climate-controlled warehouse to ensure it stays in the required range for your products.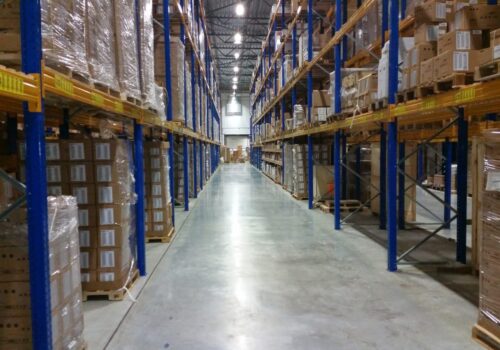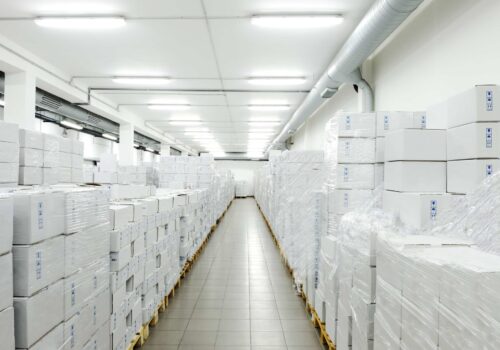 Climate-Controlled Warehouse Explained
While temperature control and climate control may seem interchangeable, they are different specifications that should be clarified to protect your products. Climate-controlled warehouses offer temperature control and humidity control for products sensitive to high moisture levels in the air.
If the inventory you need to store is sensitive to moisture levels, you'll want to request our climate-controlled warehouse services.
Types of Products That Require a Temperature-Controlled Warehouse
At Crown, we work with several clients in various industries. We partner with companies that produce consumer electronics, pharmaceuticals, cosmetics, and medical equipment. Every client is unique, and their inventories require customized solutions and conditions for storage and maintenance — including temperature-controlled warehouses.
Some of the most common products that require temperature-controlled warehouse environments include:
Food and beverages: Even nonperishable items can suffer from exposure to excessively hot or cold temperatures. Food products can melt, freeze or even spoil completely.
Electronics and medical equipment: Electrical components can suffer from exposure to heat or cold. Parts shrink and expand, and batteries become less effective. Some medical equipment requires colder temperatures for sterility as well.
Cosmetics: Exposure to extreme temperatures can make cosmetics melt or freeze, causing permanent damage to the products.
Supplements: Improper storage of supplements can shorten their shelf life. Plus, gummy supplements may melt in hot environments.
Pharmaceuticals: Warehouse storage of pharmaceutical supplies is subject to strict government regulations. Fluctuations in temperature could alter the chemical structure of medication and make it less potent or totally ineffective.
Benefits of Working with Crown LSP
Crown offers a full range of warehousing and other logistic services to help you optimize your company's workflow.
When you trust a third-party logistics provider like Crown to take care of your temperature-controlled warehousing needs, we can take some things off of your plate so that you can focus on the money-making aspects of your business, like production and sales.
Crown is a local, family-owned, and -operated business with deep ties to our Rocky Mount, North Carolina community. We work as an extension of your company to ensure your work is completed efficiently, follows warehousing best practices, and is according to your requirements.
We know that every company has unique needs, so we work with each of our clients to develop customized solutions. You'll only pay for the services you use and the warehouse space you need — when you need it.
Temperature-Controlled Warehouse Services (FAQ)
For further information about temperature-controlled warehousing, find answers to some common questions we receive about these services below.
Get Started with Temperature Controlled Warehousing from Crown LSP
Let Crown store and monitor your goods in our temperature-controlled warehouse facilities. Ready to get started? Request a quote online or contact us to speak with a team member who can help build a custom solutions package for your business.