Inventory Planning & Management in NC
Managing inventory is essential for any supply chain business. Having the proper amount of products ensures a company can meet consumer demands without having a surplus of stock left over. Inventory management tracks products and goods to make sure there's always enough stock to complete customer orders and provide proper notice if there's a shortage.
Third-party logistics (3PL) providers can oversee these processes and help businesses remain on top of their inventory. Choosing a 3PL inventory management service helps companies expand into new territories, store seasonal products, reduce costs and realign business focus with operational growth.
Crown LSP Group is your one-stop shop for inventory planning and management services. Our dedicated team has the knowledge and experience to create personalized solutions for your business. As a leader in the logistics industry, we understand the importance of customer satisfaction and know how to help your business optimize its space and processes.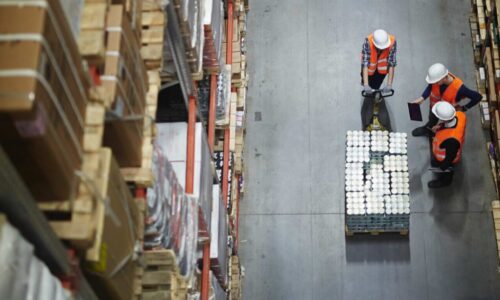 Benefits of Effective Warehouse Inventory Management
Two of the most apparent benefits of inventory management are being able to fulfill open or incoming orders and raise profits. Several other advantages of incorporating an effective inventory management system include:
Saving money: One of the most significant benefits of inventory management is saving money and reducing costs. When you improve your inventory management efficiency, you can prevent errors and minimize the resources you would need to correct them. Additionally, you can better monitor the stock at each location to ensure an adequate order supply without overstocking. This can help reduce holding costs and maximize the cash flow for your business.
Increasing cash flow: As we mentioned above, proper management can improve your cash flow. This process helps you only spend money on products and goods that will sell, ensuring cash is constantly moving through your business as you purchase more materials and fulfill orders with more efficiency.
Satisfying customers: A quality shopping experience is essential in the current market, as happy customers are more likely to return to your business. There are many things you can do to improve their experience. One way is to optimize your process to provide quick service, fast delivery times and accessible stock, which will enable your customers to enjoy their experience with your business.
Enhancing business planning: Some tools can help you form a more effective business strategy. For example, barcode scanning allows you to transfer data quickly and monitor your business operations easily. These tools can also assist you with identifying potential problems and empowering you to jump on trends and stay ahead of the curve.
Saving time: Many management tools can automize various routine processes. For example, you can utilize inventory forecasting to predict when you need to purchase more goods or when trends for current stock are declining. This process will give time back to your workers, so they can spend valuable time performing other tasks and increasing their overall efficiency and productivity.
Improving accuracy: Inventory tracking makes businesses aware of their current situation, ensuring they consistently have the optimal stock available for upcoming orders. With inventory optimization services, your business can prevent overstocking and avoid running out of inventory when you need it.
Better yet, you can rely on a 3PL to complete these services for your business. Through working with a 3PL, you can cut storage and fulfillment costs, boost business efficiency, streamline logistics operations and discover new opportunities for expansion and growth.
When you choose Crown LSP Group, you can count on our team to perform day-to-day tasks that increase profits, efficiency and productivity. We offer on-site warehouse operations services, including total warehouse management, to provide scalability and flexibility for your business. This way, you can ensure your workers spend their time focusing on the tasks you need most.
Inventory Management Services From Crown LSP Group
Crown LSP Group offers customizable and comprehensive services for businesses to help them stay ahead of the competition. Our tools can lower expenses, drive higher profit and boost processes, helping you provide the best customer experience while using seamless solutions.
At Crown LSP Group, you can find comprehensive services, such as:
Inventory tracking: Crown LSP Group can provide the team you need for inventory tracking. We will track and restock your inventory when necessary and replace items on the proper shelves when a customer needs a refund or return.
Order fulfillment: We offer e-commerce fulfillment services that include providing space for your products, tracking customer orders, packing customer orders and processing returns and refunds.
Demand forecasting: Our team provides demand forecasting tools to keep you up-to-date about oncoming trends and demands. These resources empower you to remain responsive and flexible to market changes and customer needs.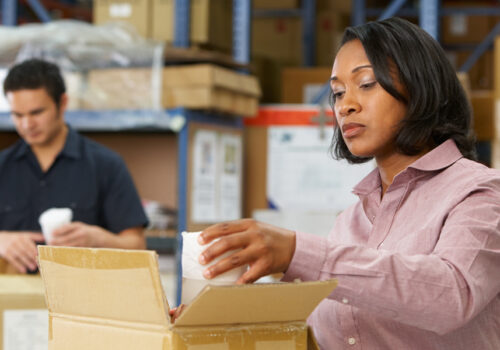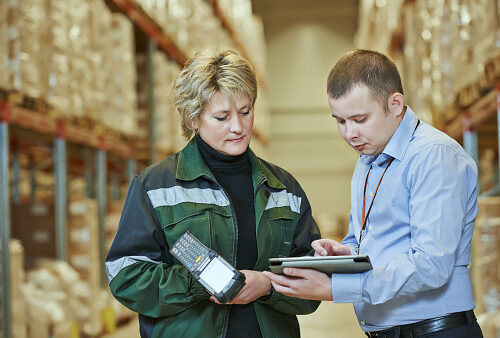 Inventory Management Technologies
Our professional and knowledgeable team is only one part of our comprehensive solutions. We also use a variety of technologies for inventory management to make day-to-day operations more seamless and efficient. These technologies can improve efficiency and inventory accuracy.
For example, we utilize barcode scanning to track inventory. This process makes it easy to determine what's coming in, going out and staying on the shelf. You can ensure you don't overstock or run out of goods when you need them most. You can also rely on barcodes to save time throughout the day. For example, you can scan goods to submit purchase requests rather than typing long product names or finding vendor emails.
Radio-frequency identification (RFID) allows you to track inventory in real time, letting you determine where your products are in the supply chain. This tool becomes useful as soon as you receive a shipment. We'll place an RFID tag on the goods, and that information will go to a database where you can easily access it. This process can be more helpful than barcodes because you can scan and catalog items, even if they're behind pallets or boxes.
You can also use our warehousing management systems for inventory planning services. When you partner with us, we become an extension of your business. At your request, we can dedicate a workforce to your company to help you meet deadlines, refine strategies and perform routine operations.
Custom Inventory Management Solutions
At Crown LSP Group, we know that every business has different needs and goals, which is why we offer customization options. We're not offering a one-size-fits-all solution. Instead, we provide personalized inventory tracking methods, reporting options and fulfillment options.
We serve a variety of industries, like e-commerce, automotive and health care, that need custom inventory management services. Our company offers value-added services to streamline your processes, increase customization, reduce production costs and improve readability.
These services empower you to have more control over special features and tailor every step according to your consumers' needs. Whether you require specialized reports or additional care throughout the fulfillment process, we can assist you.
Why Choose Us for Inventory Management Services
Crown LSP Group has been operating since 1987. Throughout our many years of experience in the industry, we've found some of the most effective and efficient ways to optimize processes and reduce costs while delivering top-notch products. Our expertise and scale empower us to get the job done cheaper, faster and better every time.
Our reliable service, cost-effective storage, flexible offerings and customized solutions make us a comprehensive choice for any business. You don't have to take our word for it — you can review the successful implementations we've completed for previous clients. Here's what our satisfied clients have to say, so you can see why they would highly recommend us:
Request Inventory Management Services From Crown LSP Group
Every company has unique needs, and a 3PL provider can help your business reach its goals more efficiently. Through this partnership, you can access a team of dedicated professionals, utilize modern tools and technology, and rely on quick service and effective strategies.
Our experience at Crown LSP Group makes us an exceptional partner choice for your inventory needs. Reach out for more information about our inventory management services to discover how we can benefit your business.