Managing day-to-day operations at your warehouse can be demanding, so it's essential to have the right solutions to keep processes running optimally. Management can become even more complicated if you face increasing demand or an influx in materials. Outsourcing warehouse operations can be an invaluable solution to boost your facility's efficiency and help you stay ahead of demand.
At Crown LSP Group, we offer trusted solutions for your logistics and warehouse operations. With expert personnel handling key operational requirements at your facility, we can help optimize your processes and simplify daily management. When we take care of your operational needs, you can focus on the most important details for running your business.
Contact Us For More Information
Our On-Site Warehouse Operations
In 1990, as a natural outgrowth of our transportation and warehousing operations, Crown began supplying professional work teams to handle the loading/unloading requirements of your trucks and containers at your warehouse.
Crown personnel will manage the trailer spot, providing a driver with a tractor to move trailers to and from your loading dock as needed. It will provide full documentation of empty and loaded trailer locations and availability. We can ensure that loading and unloading processes are smooth and efficient with our forklift drivers' help while keeping accurate tracking and record-keeping, comprehensively optimizing operations.
Crown can handle all your warehouse requirements, from lumper services and inventory management to Total Warehouse Management. We are a complete solution with quality inspection guaranteed. We offer flexibility and scalability to meet your needs and can be as involved in your operations as you want us to be. Whatever you need us to handle, we can work with you to make it happen.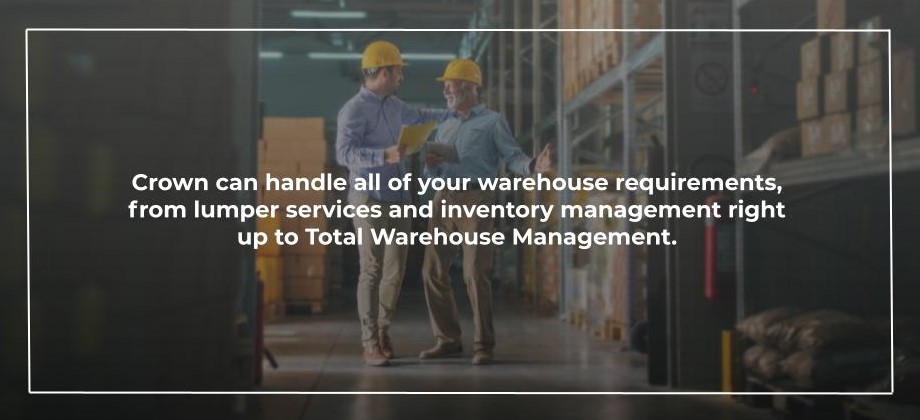 The Benefits of Outsourcing Your Warehouse Operations
There are many benefits associated with outsourcing the loading dock and shipping yard responsibilities. All personnel is employees of Crown LSP Group, which minimizes your liability, personnel issues, training/certification requirements, and insurance costs. If you're considering outsourcing warehouse operations at your facility, you can rest assured that Crown personnel will treat your products with the same care and expertise you do every time.
In addition to fewer personnel issues, most companies quickly see an increase in productivity, lower costs and greater efficiency on the loading dock. Having efficient management for loading and processing can help optimize processes while decreasing your logistics management responsibilities. The right solutions will simplify operations for managers and workers while ensuring accuracy and safety for everyone on the job site.
How Crown LSP Group Is Unique
We're here to serve our community and customers. From the Nash UNC Healthcare Foundation to the Strategic Twin-Counties Education Partnership (STEP), our team members volunteer and support our local nonprofits. As a family-owned business, we're here to build a trusted relationship with each customer. We want to partner with your business. As a leader in third-party logistics, our goal is to deliver cost savings and increase operational efficiency for your facility, whatever your needs.
Our team knows that every business is unique, and we deliver customized solutions to match your requirements. We go beyond a one-size-fits-all approach and strive to understand your priorities, business objectives, and operational needs. Whether that means offering later service hours to accommodate your shipping requirements or scaling our capabilities to fit your consumers' demands, we'll work with you to answer your most challenging supply chain needs.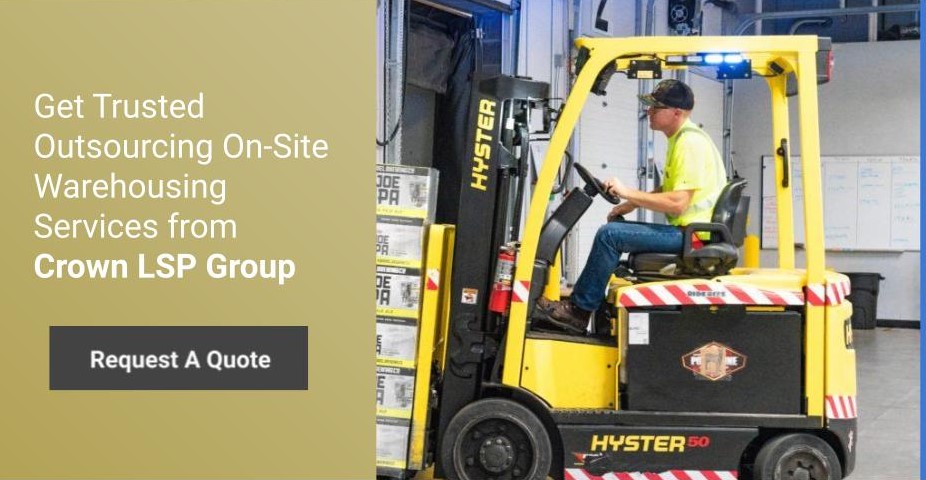 Get Trusted Outsourcing Services From Crown LSP Group
When you choose Crown LSP Group as your on-site warehouse services provider, you get trusted personnel to handle day-to-day operational requirements at your facility. You can feel confident that we'll provide expert and efficient handling of your materials and shipments throughout the process, enabling goods to reach your customers faster. Throughout the process, we partner with you to ensure you can focus on management and peace of mind about your facility's operations.
Whatever warehouse operations you're looking to outsource, let us help you move forward. For more information, get in touch with us today.
---
Get in Touch
Request a quote today, and let us know how we can help you!