Your Go-To Short Term Warehouse Provider
Short-term warehousing provides a simple and effective solution for companies looking to fulfill their temporary storage needs. With Crown LSP Group, you receive reliable and efficient short-term storage services fully customized to your needs.
What Is Short-Term Warehousing?
Short-term warehousing is the process of storing goods for a period of less than 90 days. These services make products easily accessible to supply chain and logistics professionals, giving them the flexibility they need to rearrange merchandise faster. Warehousing managers in any industry can adjust for increased product demands without commitments or long-term contracts.
Numerous circumstances warrant short-term storage services, including:
Handling last-minute inventory overflow.
Introducing a new product or project.
Responding to seasonal demands and inventory spikes.
Separating shipments for different locations.
Storing early freight.
Changing business locations.
Dropshipping merchandise.
Temporarily storing international shipments.
At Crown LSP Group, we provide short-term warehousing as both a one-off service and an ongoing solution with frequent inventory turns that facilitate Just-In-Time (JIT) production or assembly.  Whatever your storage needs, Crown LSP Group has you covered.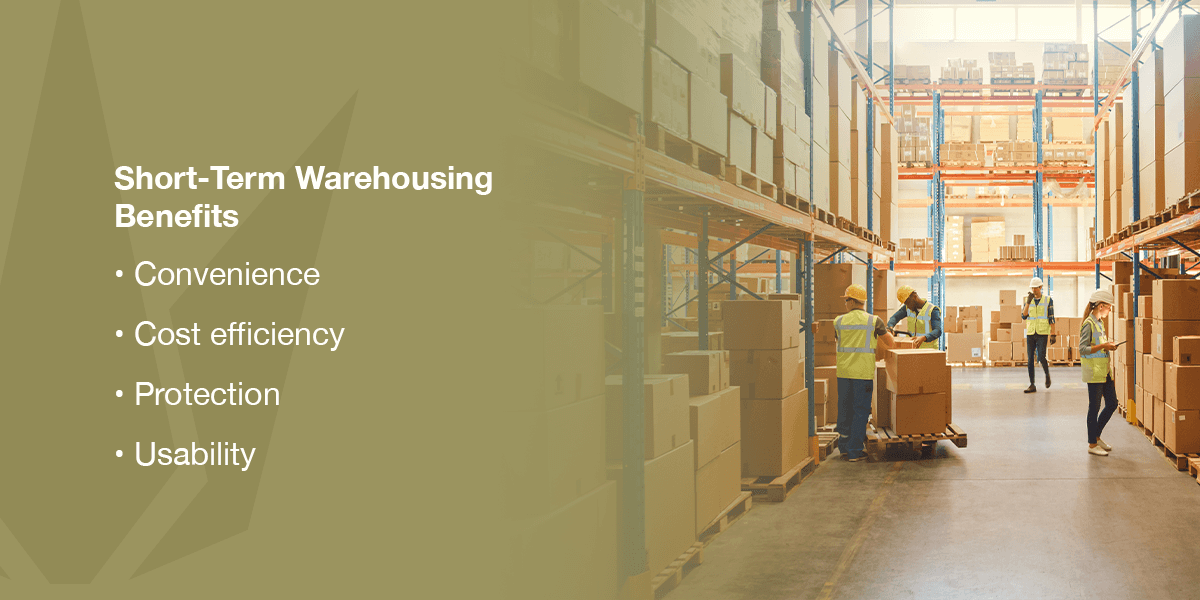 What You Can Expect from Our Short-Term Warehouse Solutions
Some advantages of investing in short-term warehousing solutions from Crown LSP Group include:
Convenience: Short-term storage services employ efficient processes that enable fast and precise loading, offloading, and transportation, ensuring that all cargo reaches its final destination in record time.
Cost efficiency: Temporary warehousing solutions offer an affordable alternative to building or buying your own warehousing space.
Protection: Storing merchandise in a short-term warehouse minimizes the risk of product damage with proper storage techniques and reliable security systems.
Usability: Short-term warehouses are easy to use and feature modular construction, making products more accessible and organized.
Why Choose Crown LSP as Your Short-Term Warehouse Provider?
As a family-owned third-party logistics provider, Crown LSP Group is committed to serving customers by doing what it takes to develop custom solutions individualized to their unique warehousing needs. Our solutions are flexible, scalable and cost-efficient to help companies optimize their enterprises with streamlined operation.
Our dedication to serving our customers reflects our loyalty to serving the communities around us. Crown LSP Group is heavily involved in the Rocky Mount and Twin County areas, serving various nonprofit organizations, including the Nash UNC Healthcare Foundation, United Way, Kiwanis International, local churches and food banks, and many more.
Contact Us Today for a Free Short Term Storage Quote
Get improved flexibility and control with short-term warehousing solutions from Crown LSP Group. Working with us means becoming a part of a genuine partnership that benefits you and your business.
Contact us to learn more about short-term warehousing or request a quote on our services today!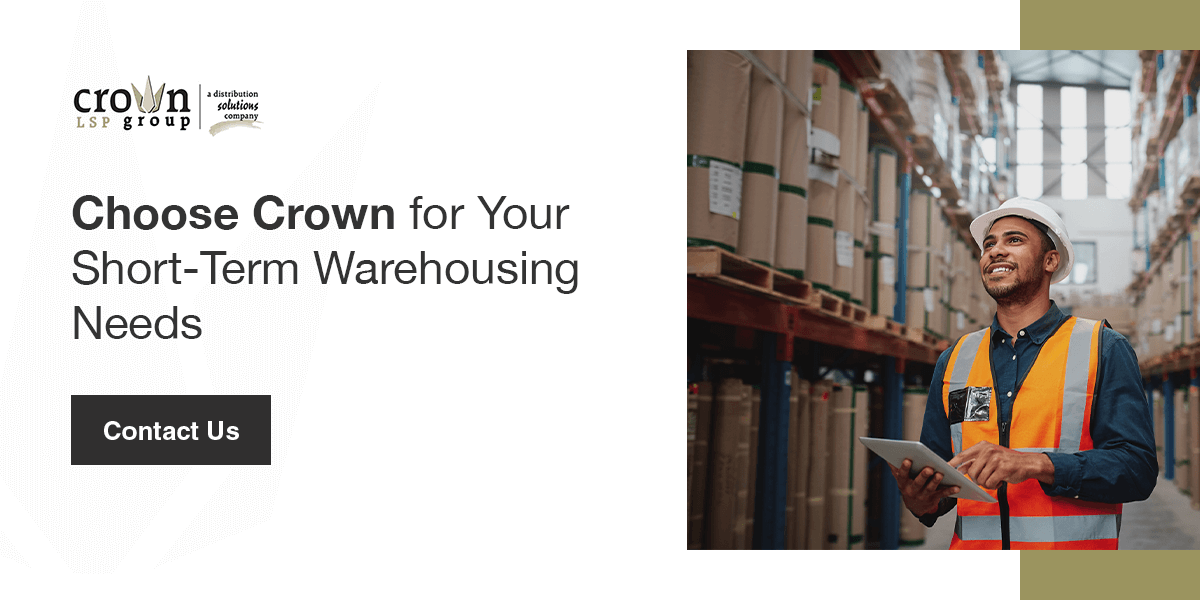 ---
Get in Touch
Request a quote today and let us know how we can help you!