Managing warehousing, order fulfillment, and logistics operations for your business can be challenging and leave you with less time to focus on expanding your customer base. One crucial element of any business is the ability to adapt and remain agile in ever-changing market conditions to meet consumer demand.
Outsourcing these important tasks to a third-party company will give you more time to spend on activities that are crucial to your business growth, such as streamlining your operations and building your reputation. Supply chain management is a necessity for your organization. Using third-party logistics can make these specific responsibilities less complicated, empowering you to innovate and take your business to the next level.
Let's review some third-party logistics examples and how to choose a 3PL provider that fits your unique business needs.
What Is Third-Party Logistics (3PL)?
Third-party logistics (3PL) is the process of hiring a third-party business to outsource e-commerce logistics tasks to manage one or more facets of procurement and fulfillment activities. Some of these tasks include:
Warehousing
Storing
Distribution
Inventory management
Transportation services
Shipping and receiving
A 3PL company provides all the services you need to outsource your logistics operations and streamline your processes to expand your business and deliver your products to your customers faster. It's common for 3PL warehouses to manage and ship inventory of multiple businesses at once in addition to their own inventory.
All 3PL companies specialize in different types of fulfillment for various materials, goods, and products. Some 3PLs offer different warehousing services for temperature-controlled goods and long-term needs. Many businesses will use a 3PL company to help them identify gaps in their supply chains. A 3PL company can also resolve challenges with comprehensive solutions and efficiently carry out tasks that make businesses more agile.
Working with an outsourced logistics provider is a partnership that allows you to spend more time growing your business and accessing the most effective methods for delivering orders to your customers.
What Is the Role of 3PLs in the Supply Chain?
3PL companies take on a critical, multi-purpose role in the supply, which is helping their customers grow their business and achieve sustainability while maximizing their benefits. Supply chain management covers many elements, as we briefly mentioned before, that primarily fall under logistics operations.
These operations include:
Logistics planning
Material procurement
Product sourcing
Maintaining inventory
Let's give you an example of the role 3PL plays in the supply chain. Suppose a shipping company wants to expand its reach internationally but doesn't know how to start the process. They decide to work with experienced professionals and hire a 3PL company to help them ship their goods. The 3PL partner will find the best carrier and shipping rates and manage the paperwork for the shipping company.
When the products are ready to be shipped, the 3PL partner will pick up the overseas order, book the carrier and deliver the goods. They also manage every other aspect of the shipping process, such as dealing with customs and ensuring your customers receive their orders.
Some 3PL companies also cover warehousing and fulfillment needs for businesses that require faster deliveries. Those providing these services will use innovative technology and software to find the most efficient delivery routes to maximize cost and time, helping businesses meet their supply chain goals.
Advantages of Working With a 3PL
Outsourcing fulfillment services to a 3PL provides endless benefits. Though every 3PL company varies slightly in its capabilities and advantages, they will help you maximize profitability by offering solutions for managing your inventory, packaging, shipping, and warehousing activities.
1. Cost and Time Savings
3PLs eliminate the need for renting a warehouse and paying for logistics and technology needed for fulfillment. Outsourcing these tasks also frees up more time on your end to focus on strategic initiatives.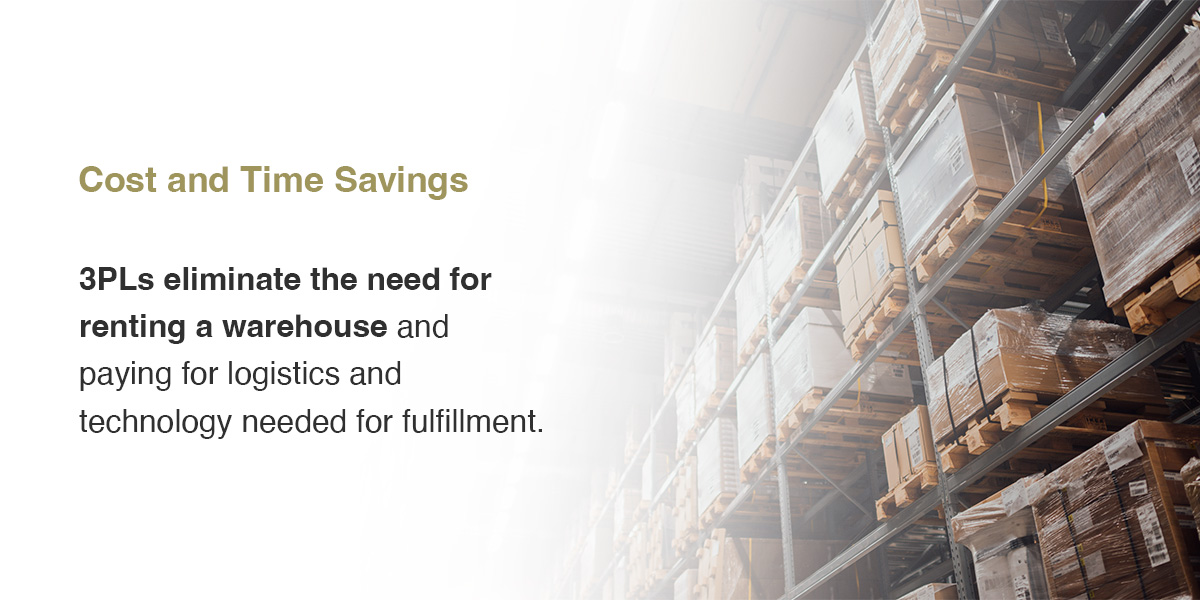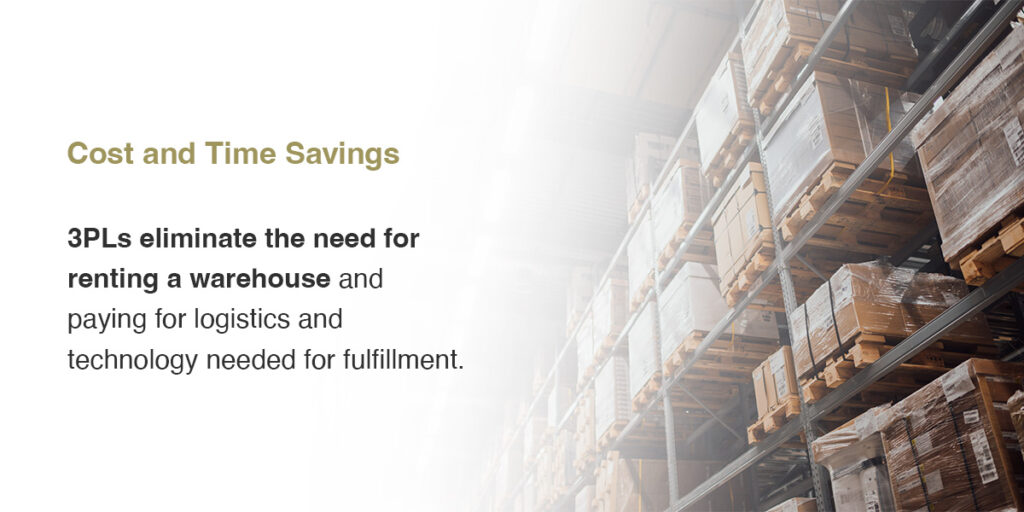 2. Industry Experience and Expertise
Relying on logistics and shipping professionals with more technical resources can give you access to the latest industry knowledge, trends, and complexities.
3. Flexibility and Ability to Scale
If you're only selling your products in a limited region, working with a 3PL partner can help you expand your reach and access an expansive network of fulfillment centers to ship out orders from different shipping zones, allowing you to reach more customers.
4. Allows for Your Business to Grow
If your business does suddenly expand or has an increase in consumer demand, a 3PL partner can help you grow your business and handle operations to meet your goals.
5. Provides a Better Customer Experience
With access to the most advanced technology, tracking, operational transparency, and fulfillment solutions, a 3PL partner can ensure you deliver superior customer service every time.
6. Innovation in the Supply Chain
Outsourcing fulfillment means taking advantage of the competitive innovations a 3PL partner can offer for streamlining operations, such as additional offerings and services to improve supply chains and delivery methods. A 3PL partner like Crown LSP Group offers value-added services, including cross-docking and transloading to speed up delivery times and provide more flexibility.
7. Mitigates Risk
Your 3PL fulfillment partner will manage potential risks and maintain quality assurance for safety and damage. With someone to take responsibility for the detailed processes in your supply chain, you will feel a significant weight lifted off your company's shoulders.
Considerations When Choosing a 3PL 
When choosing a 3PL company, keep in mind that you want to work with a partner who prioritizes operational efficiency, business relationships, safety, and the latest technology. Here are some things to consider before you choose a 3PL partner.
1. Reliability
Your 3PL partner should be able to handle disruptions, unexpected technical problems, and scheduling issues. It's important to learn if they have a history of financial and relationship stability during an economic disturbance.
2. Customer Service
Confirm if the 3PL partner can match your communication needs. Do they have the ability to maintain professionalism and adequate responsiveness with accurate information? Can they identify issues and resolve them?
3. Safety Procedures
Your 3PL partner should have strict safety policies and procedures in place to protect assets, financial information, and personnel that they regularly update with the latest compliance regulations. They should also practice warehouse safety, particularly when dealing with heavy or hazardous goods.
4. Customization
Find out if the 3PL company provides customized solutions to integrate with your supply chain to help maintain long-term operations, quality of service, and efficiency.
5. Location
Verifying your 3PL company's location will give you insight into their major shipping hubs and highways that can help you expand your customer base.
6. Technology and Automation
A strong 3PL company will have the latest updated logistics software and IT capabilities to help you make quick, informed decisions and enhance efficiency for your customers.
7. Experience and Reputation
A company's reputation will tell you many things about how they run its operations. A 3PL company should prioritize its employees, vendors, and carriers to build a respectable and trustworthy reputation. Analyze the 3PL company's relationships and see if they maintain a strong industry standing.
Choose Crown LSP as Your 3PL Provider
Trusting your business operations with an experienced 3PL partner enables you to focus on management processes with confidence knowing your facility's operations are in expert hands. When you choose Crown LSP Group as your 3PL services provider, you get flexible, scalable solutions to meet your supply chain challenges and trusted personnel to manage your day-to-day operations.
As a distribution solutions company, we know every customer has unique needs. We will adjust and customize our operations to bring you cost savings and operational efficiency, giving you more time to focus on what you do best. We are ready to help you create a customized warehousing and transportation solution and get you moving forward.
For more information about our 3PL services, get in touch with us or request a quote today.