Fulfilling orders placed by your customers involves multiple processes associated with both receiving and shipping customer orders. Picking and packing is one of the earliest and most essential processes in order fulfillment. If you own a small business or an e-commerce company, you may be wondering how outsourcing the warehouse pick and pack process can benefit your operations.
Logistics companies can promise speed and efficiency because of the pick and pack process. But before you outsource this crucial process, you should understand pick and pack fulfillment, learn some picking and packing best practices and know the benefits of e-commerce pick and pack fulfillment.
Continue reading to learn more about pick and pack fulfillment with Crown LSP Group.
What Is Pick and Pack Fulfillment?
The pick and pack process is a part of the supply chain — the process that moves goods from the supplier or retailer to the customer. Picking and packing in a warehouse is the process that takes place after orders are placed at a store online. The fulfillment center finds products from shipments and re-packages them for distribution.
Picking: Warehouse picking means using a picking list for identifying and retrieving the right quantities of every product from the facility.
Packing: Packing means placing items in the correct box and choosing the appropriate documentation and packing materials. The package is then ready for labeling and shipping.
Pick and pack fulfillment is popular among internet or e-commerce businesses with customers across the nation or even around the world.
Types of Pick and Pack Strategies
As your company grows, you may need to adopt other strategies for picking and packing your orders. A warehouse that offers pick and pack services should use best practices and strategies that reduce errors and returns and save you money. These strategies include piece picking, zone picking, batch picking and wave picking.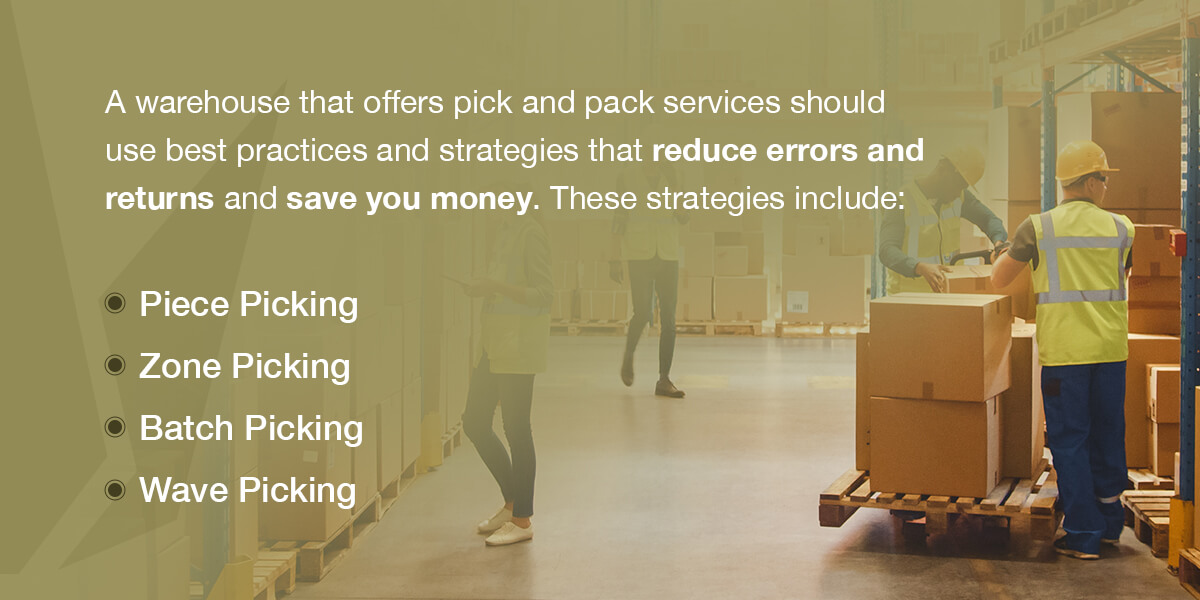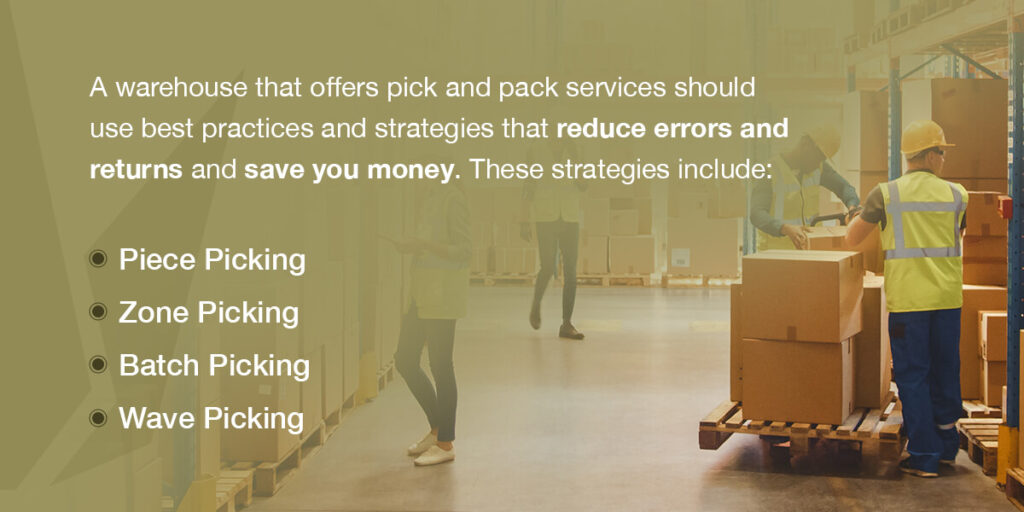 Piece Picking
This picking and packing method is pretty straightforward — warehouse workers pick each item for an order by hand as they are received. The worker will take the order's packing slip and move around the warehouse to pick the order's items off the shelves. After the worker finds every item for the order, they will take the items to the packing station. There, the order will be packed for shipping.
For small businesses that receive just a few orders each day, piece picking may be the easiest strategy to use for picking and packing.
Zone Picking
For the zone picking method, areas of the warehouse are divided into zones. Workers assigned to these zones pick items from the assigned areas. If the order calls for items from multiple zones, workers pass items from one zone to another. Once an order moves through every zone where the items on the packing slip are, the order will go to the packing station.
This method is best for larger fulfillment centers. Since complex coordination is required for this method, you'll need warehouse management software.
Batch Picking
The batch picking method refers to picking orders in batches rather than individually. This strategy is most efficient if you have a large number of orders. Every batch is comprised of items located within the same zone of the warehouse. Warehouses utilize the batch picking method so pickers have the most efficient path possible through the facility. This saves time that would otherwise be spent walking back and forth, so orders will be packed and shipped faster.
Batch picking can be an effective picking and packing strategy for businesses of all sizes. All of the orders can be picked at one time every day, so this method will be more efficient than the piece picking method, which involves picking the items for each order as you receive them.
Wave Picking
Wave picking combines the zone picking and batch picking methods. For this strategy, employees stay in a designated area but pick orders in batches in those zones rather than picking items for a single order at a time. The batch is then passed to the next area in the warehouse for picking.
Benefits of Pick and Pack Fulfillment
Should your business implement pick and pack fulfillment into your operations? To help you make your decision, consider the benefits of pick and pack fulfillment:
Cost-effectiveness: Pick and pack fulfillment can handle any order, so you can avoid minimum order charges. Additionally, items don't need to be gathered from various storage facilities. This practice reduces time and costs associated with labor, streamlining the process and making it more cost-effective.
Quicker turnaround: Another benefit of pick and pack fulfillment is the increased packing and shipping speed. Orders will arrive to customers sooner with pick and pack methods that utilize organized and well-managed handling strategies. Warehouse employees will be trained to work efficiently and will know what goods to search for to fulfill orders and how to pack these items properly to prevent damage.
Organization: Any successful pick and pack system relies on an organized warehouse. Groups of items will be clearly labeled to make workers' jobs easier and every worker will know where to find the items they need, avoiding wasted time.
Customer satisfaction: When performed correctly, pick and pack fulfillment ensures orders are filled properly and reach customers on time and without damage. When you work with a pick and pack company, you won't have to worry about the wrong items being sent to your customers. Properly trained workers and an organized warehouse will ensure orders are accurate and your customers are satisfied with their experience.
Efficiency: A proper process for picking and packing streamlines order fulfillment by removing the middleman needed when items are collected from various storage facilities before being sent to another location for packing and labeling. This makes the entire process more efficient.
Pick and pack fulfillment can help your business manage order fulfillment and increase profitability. To enjoy these benefits, you should work with a company that provides pick and pack services.
Choose Crown LSP for Pick and Pack Service
At Crown LSP Group, we provide distribution and supply chain solutions, regardless of whether we're warehousing raw materials or finished goods. In the current environment, many companies realize they need more safety stock beyond what they were previously keeping on hand, which is where our services come in. Additionally, our transportation department can provide shuttle service from the customer's facility to Crown LSP Group and vice versa.
We are a proud, family-owned third-party logistics provider that is happy to offer flexible and scalable solutions to our customers. If you are interested in outsourcing picking and packing services, request a quote from Crown LSP Group today.