Freight Brokerage Services
When you need to move large amounts of product across long distances on time, you want a business partner you can trust. Crown LSP Group is here as your comprehensive distribution solution to help you find an honest, reliable and timely form of transit from our selection of certified trucking companies. We've been in the transportation industry for over 30 years, so we know what you need to meet your budget and make timely deliveries.
Crown LSP Group is a family-owned company with customer service that values customization for you. We skip the cookie-cutter model and help you find a freight company that can meet the unique demands of your product.
What Is a Freight Broker?
A freight broker is a middleman who oversees communications between the shipper and the carrier. The broker oversees that the shipper provides the product properly and that the carrier delivers it on time, on schedule and within budget.
Crown LSP Group has connections with over 5,000 certified trucking company partners. We provide you with third-party brokerage deals that save you time and expense. Our in-depth experience with the industry gives us insight into negotiating contracts and overseeing the fair execution of operations.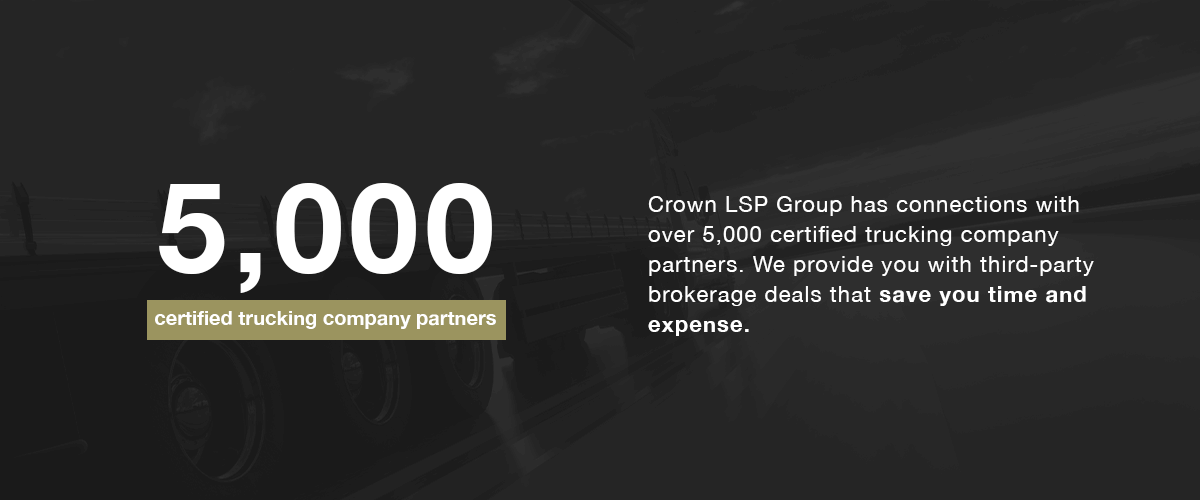 Benefits of Using a Freight Brokerage Company
There's a reason the large majority of Fortune 500 use a freight brokerage service. Freight broker service companies like Crown LSP Group are a powerful solution because we simplify the transit process for the shipper by removing the need for negotiations, planning routes and tracking freight.
There are several specific benefits of freight broker solutions:
Cost reduction: Logistics freight brokers have personal business relationships with truck carrier networks to negotiate exclusive rates.
Scale capacity: Freight brokers deal with thousands of trucking companies, so it's a simple matter for them to scale transit at fast-growing companies.
Timely and quality delivery: A freight broker is an impartial watchdog to make sure that trucking companies deliver your freight on schedule in the proper condition.
Why Choose Crown LSP Group as a Freight Broker
Crown LSP Group has specific competitive advantages that can take your distribution and logistics processes to the next level.
The most significant benefits include:
Customer service: We go beyond the extra mile to bring you the highest level of customer service. We're a family-owned business that treats you like a business partner, not just a number on a spreadsheet.
Expertise: Crown LSP Group has generations of experience with a legacy of thousands of trucking partnerships. When you do business with us, you become a part of our brain trust of experience with your own valuable insights.
Services: We offer both Truckload and Less-than-Truckload (LTL) services, so you have a comprehensive plan to match every variety of products.
Contact Crown LSP Group for Freight Brokerage
Crown LSP Group has four decades of experience to help you revolutionize your distribution and logistics. You'll have peace of mind with Crown LSP Group, a family-owned business with a legacy of customer service that puts you first.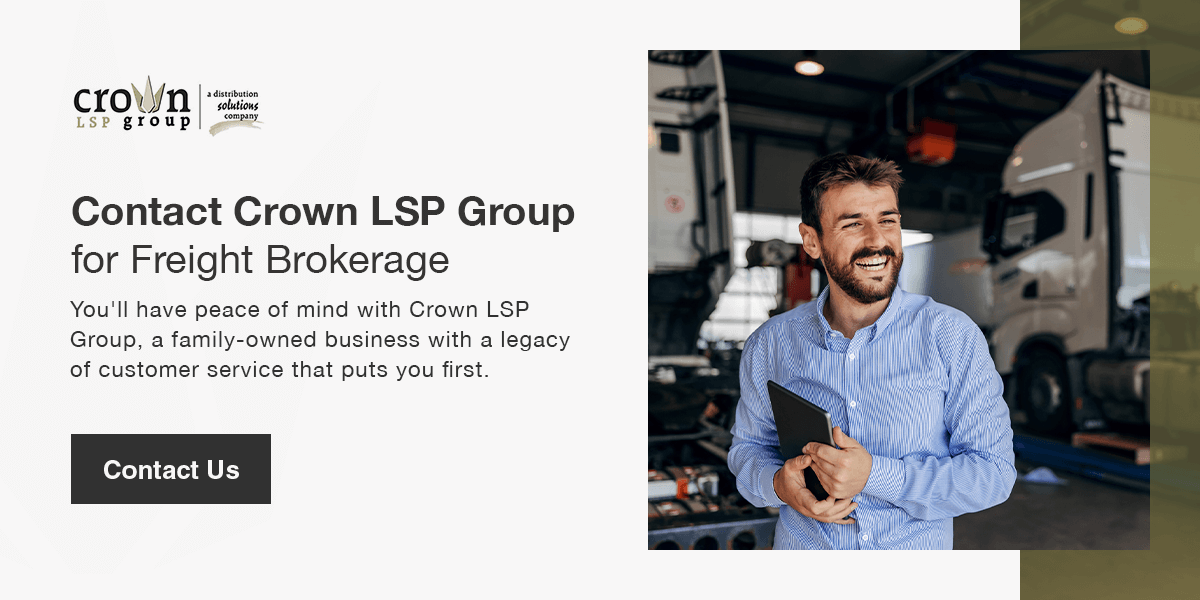 Want to take the first step on your journey to freighter brokerage? Reach out and fill out our contact form online or request a quote to find your trucking brokerage services today.
---
Get in Touch
Request a quote today and let us know how we can help you!