E-commerce is a competitive field and a large sector of total retail sales. Product availability, order accuracy, and speedy delivery are essential to get your customers to do regular business with you. Partnering with a strategic order fulfillment center will help you accomplish these goals.
Crown LSP Group is a third-party logistics (3PL) and fulfillment company that stores and manages your inventory, including handling return logistics and receiving and fulfilling customer orders. We offer many warehousing services, so you can let us take care of your supply chain while you can focus on manufacturing products.
We Handle Every Stage of the Order Fulfillment Process
Crown LSP Group operates a network of fulfillment centers and warehouses to handle e-commerce business orders. When choosing to partner with us for e-commerce fulfillment services will handle every aspect of the fulfillment process, including:
Inventory warehousing: We have the warehouse space to store your inventory and fulfill customers' orders.
Inventory management: We will monitor your products and restock them when necessary to keep orders moving.
Order management: We will receive and track orders from your customers.
Order fulfillment: We will pack your customer's order and quickly ship it to the destination.
Return management: We will take care of reverse logistics — process return orders, refund customers, and return the inventory to the shelf.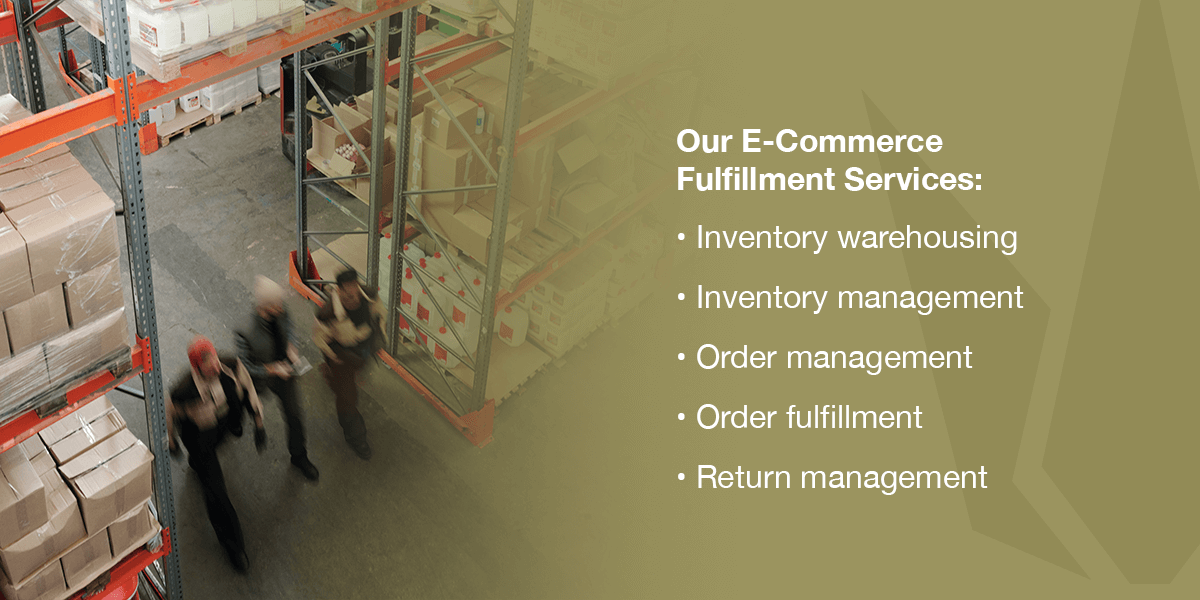 Take Your Ecommerce Business to the Next Level
Choosing Crown LSP Group for your e-commerce order fulfillment services will benefit your company. Advantages include of our order fulfillment support include:
Cost-effective services: With warehouse services for e-commerce fulfillment, you will pay for the orders we process and the warehouse space used for your inventory. We cover all other expenses because they are factored into your fees.
Scalable resources: You will have the right amount of space and staff you need for your current business sales. You can scale up or down to accommodate order frequency.
Professional partnership: The professionals with your fulfillment warehousing service train in picking and packing orders accurately and quickly, so your customers will get what they ordered as soon as possible. The fulfillment service will provide the employees for you.
Strategic fulfillment center locations: You can choose a fulfillment warehouse close to your customers for cost-effective, speedy delivery.
Regardless of your company's needs, we are here to help you with a customized e-commerce fulfillment solution. Let us show you how Crown LSP stands out as an industry leader in e-commerce logistics.
Your Go-To Provider for Ecommerce Fulfillment
Crown LSP Group is a family-owned business located in North Carolina with the ability to serve the entire United States. We understand that all businesses have unique warehousing and order fulfillment needs. That's why our customers receive a customized solution tailored to their business. When Crown LSP Group takes care of your order fulfillment needs, you can focus on your bigger business goals while trusting that we're expertly managing your e-commerce channels.
Contact Crown LSP Group About Our E-Commerce Order Fulfillment Services
Crown LSP Group has the value-added services you need to work efficiently and cost-effectively. Our solutions are scalable and flexible to work with your company's growth. Contact us to learn more about our e-fulfillment services or request a quote to get started today.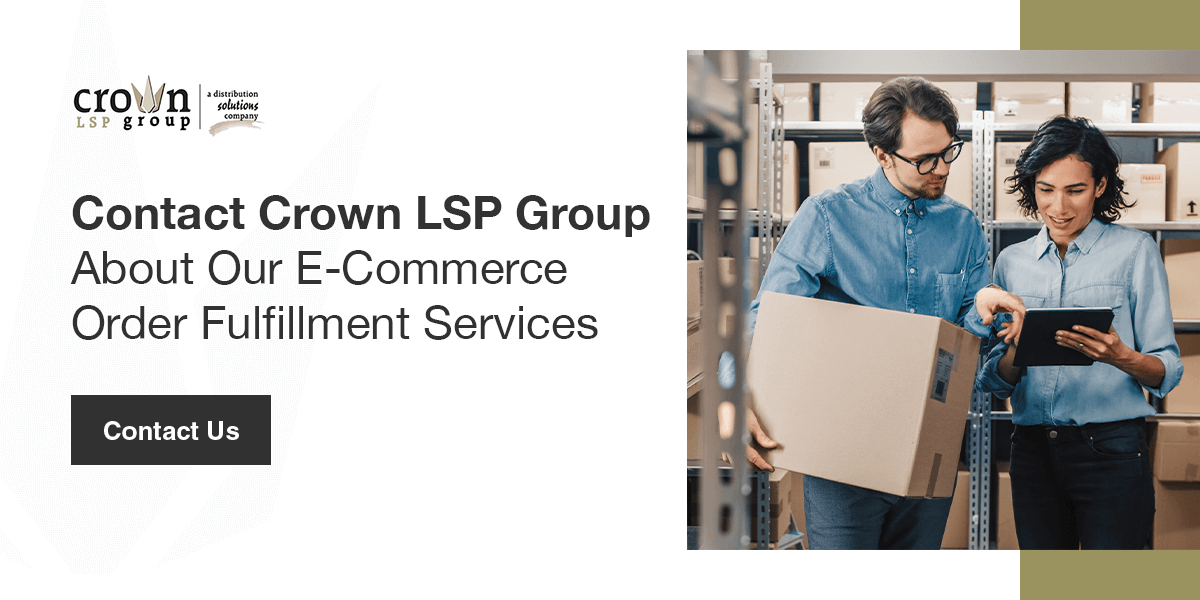 ---