Supply chain management can be a demanding job, no matter your industry. Having the resources available to keep up with consumer demand, manage efficient distribution and ensure accuracy throughout the process requires a significant investment.
If you're looking for options to optimize your enterprise's management strategies, consider outsourcing supply chain services to Crown LSP Group. With outsourcing, you can entrust specific operations to us as your third-party logistics (3PL) provider, saving yourself time and labor.
Contact Us For More Information
What Are 3PL Value-Added Services?
Value-added services relate to the value of a products' price to consumers compared to the cost of producing it. In a supply chain context, you could outsource operations you would typically do at your own facility to a third party. Whether you outsource for a specific need, special promotional project or another task, you can handle specialized operations with outside resources.
Whenever you cut out a step in your production process, you can make operations more efficient, reducing production and distribution costs while providing added value to consumers. Whether it's managing cross-docking or custom labeling, a third-party logistics (3PL) provider such as Crown LSP Group can handle specific steps in your operations and help implement distribution best practices to streamline your processes.
Why You Should Outsource Supply Chain Services to a Value-Added Services Provider
Choosing a value-added services provider can be a significant asset to your warehouse operations, optimizing your processes and productivity, and ultimately increasing your customers' satisfaction with every order.
With value-added services, you can bring several advantages to your supply chain, such as:
Reduced production costs. Value-added services can optimize efficiency for everything from packaging to inventory management, leading to lower production costs.
A streamlined process. With efficient operations and strategic supply chain management, you can enjoy higher productivity and get products to customers in less time.
Improved reliability. Better accuracy and consistency from value-added services allow you to ensure customers get what they want every time, building loyalty and confidence in your business's reliability.
Increased customizability. Value-added services give you more control over special features and the packing process, letting you customize every step according to specific consumer needs to increase overall customer satisfaction.
What Makes Crown LSP Group Unique?
At Crown LSP Group, we work to deliver the best distribution solutions for your warehousing operations. We want to create business partnerships, not merely transactional relationships. You get customized solutions designed to fit your business's unique needs when you work with us. Whether you need adjusted shipping and receiving hours or a more optimized storage location, we come alongside you to deliver flexible, personalized services that match your requirements.
In many instances, our clients need services that extend far beyond the leasing of warehouse space. We can provide the workforce and the workspace for reworking damaged goods; assembly operations, fulfillment; projects requiring special kitting, packaging, shipping, and handling, and many other labor-intensive activities.

Some of our clients also utilize our personnel to help them meet critical deadlines or surge in production due to seasonal demand.  In addition, when it works best for your company, Crown employees can be dispatched to your location to assist your personnel. Some of our services include:
Rework
Carrier Selection and Routing
Shrink Wrap Bundle Pack
Kitting
Palletizing
Reverse Logistics
Assembly and Packaging Services
Inventory Management
Bundling / Unbundling
Labeling
Return Processing
Quality Assurance
Order Processing and Shipping
Direct Customer Shipping
Choose Crown LSP Group for Trusted 3PL Supply Chain Services
When you invest in outsourcing supply chain services, you can experience streamlined processes, optimized productivity, and increased customer satisfaction. Choosing the right services to handle your operational steps can also help you focus on efficient management, letting you get more done in less time and reach a high level of excellence.
Crown LSP Group delivers the solutions you need to move your enterprise forward — we bring extensive experience as industry leaders to your operations. We aim to deliver the flexibility, cost efficiency, and operational efficiency you require. Let us partner, with you to create the distribution solutions you need for your enterprise.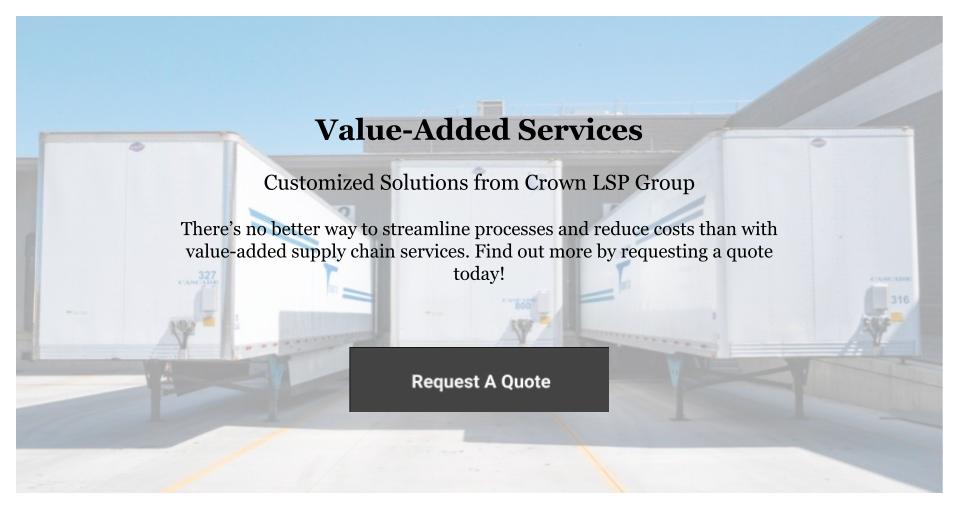 ---
Get in Touch
Request a quote today and let us know how we can help you!