The consumer goods and retail market has seen some new challenges in the last few years, spearheading the rapid adoption of innovative technology and new business strategies to help companies stay competitive. A particular area seeing a massive transformation is the supply chain. Consumer-packaged goods (CPG) brands and retailers alike are working to bolster their supply chains against growing risks, improve resiliency and better meet customers' needs and expectations.
Top 4 Retail and CPG Supply Chain Trends
Let's talk about some of the retail and consumer goods supply chain factors that are seeing huge success and changing the industry for the better.
1. Location to Customers
The location of strategic links in your supply chain is critical to your end customers, even if they do not even know where they are. While businesses employ many strategies to optimize their supply chains, locations play a critical role.
Better locations can reduce shipping and transportation costs. If you charge for shipping, your customers will appreciate the lower costs, and if you include shipping for free, you can still pass on cost savings and sell your goods for a more competitive price. Strategic locations also make it easier to get your products into customers' hands faster.
Distribution Centers
One of the latest consumer retail distribution trends involves strategically adding more distribution centers to fulfill two-day, direct-to-consumer shipping alongside traditional retail deliveries. In physical retail, a prime distribution center location means you can restock bulk orders quickly, ensuring your goods are always in stock in your customers preferred retail locations.
In e-commerce, having a warehouse and fulfillment center in a central location allows you to speed up delivery times. Online shoppers expect their items to arrive in just a few days in today's economy, and the expected delivery window is shrinking. In 2019, 40% of holiday shoppers indicated that they would expect their deliveries within two days, and 18% were only willing to wait for next-day delivery. Having items in stock at a nearby location allows you to meet those ever-increasing delivery speed demands and shorten last-mile delivery distances, saving both time and money.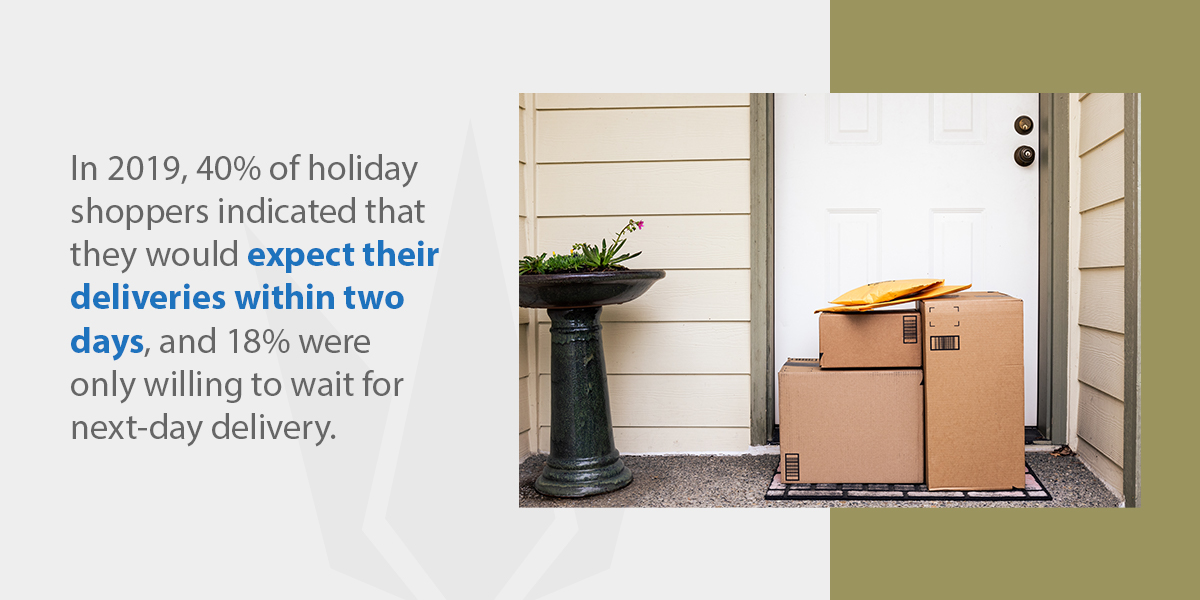 However, there's one caveat for picking locations for consumer goods distribution and fulfillment. The closer you get to densely populated cities, the higher warehousing real estate costs by the square foot. A good strategy is to locate a distribution center in an area where it's more affordable to rent space that still has excellent access to your customer base.
North Carolina represents an excellent opportunity for a CPG distribution center that offers the best of both worlds. It's centrally located along the east coast, making for a short travel distance to the southeastern and northeastern United States alike. A distribution center in North Carolina offers easy access to an international shipping port and sits within 700 miles of 70% of the U.S.'s industrial base.
Manufacturing Facilities and Suppliers
There's also a critical tradeoff in location for manufacturing — offshoring versus near-shoring. Offshoring lets CPGs take advantage of low production costs in emerging markets around the globe, providing higher margins even with the high costs of international shipping and trade tariffs.
However, offshoring introduces risk in the supply chain. Political unrest, natural disasters and extended shipping times can all cause disruptions in the supply chain. They make it impossible to source products from a usual supplier. Long shipping times, as is common when items ship by boat, can make it more difficult for consumer goods brands to react to new trends in their home markets.
Near-shoring some or all of your manufacturers and suppliers can be a helpful strategy in minimizing risks, shortening travel time between supply chain links and improving flexibility. If a particular product is underperforming and your company wants to pivot to another product or include gifts to boost sales, having suppliers and manufacturers closer to the point of sale lets them make this transition quickly. A company that relies only on offshore suppliers may have to wait weeks for their new products to arrive.
Having nearby suppliers is vital for customers who are looking for the next big thing and want it quickly. Further, many Americans specifically seek out U.S.-manufactured products to support local businesses.
2. Customer Ordering Changes — Omnichannel Capabilities
Omnichannel retail has been gaining traction for years across many product categories. Omnichannel retail refers to a company's ability to sell its goods in all the sales channels where its customers are likely to shop. Omnichannel retail includes e-commerce through seller marketplaces, online stores, shopping apps, social media, physical retail and in-store pickup options.
The basic principle of omnichannel retail is that by being in every place where their target customers like to shop, they can earn more customers. This principle can also serve the varying needs of individual consumers. For example, sometimes they need something within the next few hours and use an in-store pickup option to ensure they can reserve the item they need and get it quickly. Other times, shoppers want to buy entirely online and avoid driving to the store — they are willing to wait a few days for shipping.
An omnichannel retail strategy also assists shoppers who use more than one channel throughout their journey. For example, 46% of consumers check inventory online before going to a store to complete their purchase. Omnichannel customers — those who use multiple channels during their shopping process — spend an average of 4% more in stores and 10% more online.
Changing customer needs amid the pandemic has only heightened the need for flexible omnichannel solutions. Sellers that had e-commerce capabilities were able to survive the slump in physical retail. And even as shoppers return to brick-and-mortar stores, the ability to sell online remains critical. Now, 60% of retailers and consumer goods companies are planning investments in new facilities that can handle e-commerce fulfillment to bolster their omnichannel capabilities.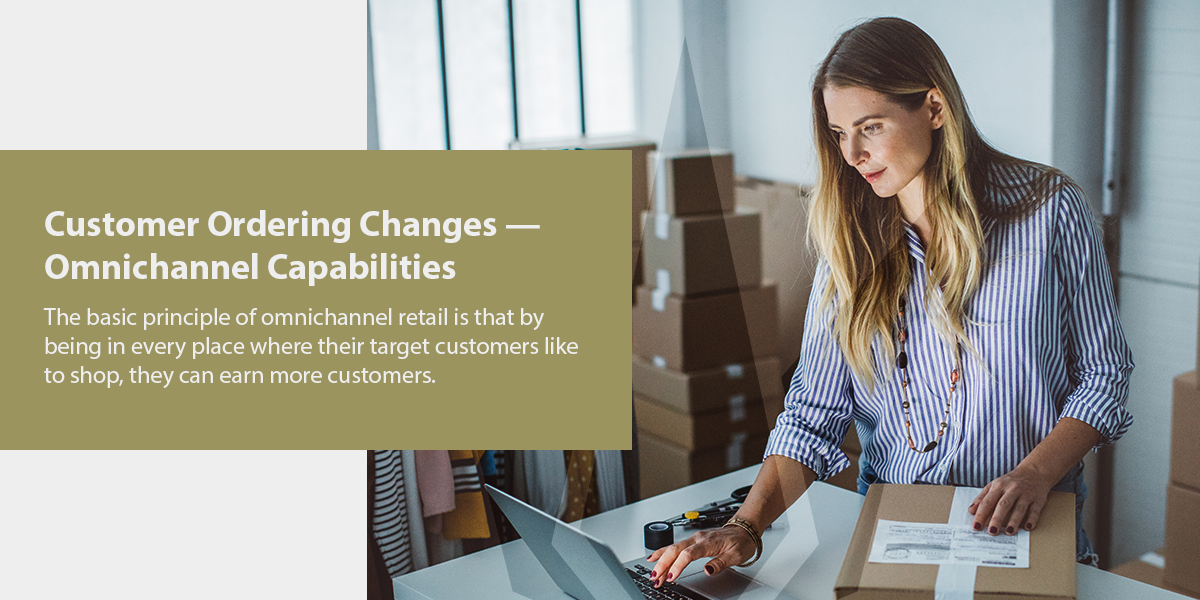 Effects of Omnichannel on the Supply Chain
As it continues to rise in prominence, omnichannel retail affects supply chains in many ways. To meet the needs of online shoppers and retail partners, businesses need a flexible warehousing solution with capabilities for e-commerce and bulk order fulfillment. Selling directly to the consumer also opens up the need to accept returns and thus handle reverse logistics and returns processing.
A distribution center that fulfills e-commerce orders needs staff members dedicated to picking and packing individual orders. They must manage incoming orders across many e-commerce sales channels and prioritize everything so that customers get what they've ordered in a matter of days. A warehouse or distribution center that supplies goods to retail partners needs additional capabilities — practicing inventory management, coordinating transportation and scheduling various inbound and outbound trucks at their loading docks. Some facilities even handle assembly and packaging.
Because of the added complexity an omnichannel strategy places on the supply chain, it's often helpful to work with a distribution solutions company, such as Crown LSP Group, that can handle a wide range of value-added warehousing services. Our capabilities include cross-docking, shrink-wrap bundle packing, pick and pack fulfillment, carrier selection and routing, assembly and packaging, inventory management, reverse logistics, direct customer shipping, order processing and more. With our help, your supply chain will handle everything an omnichannel strategy demands.
3. Stocking Issues of Quickly Changing Supply and Demand
Recent times have amplified stocking issues and shown us how quickly supply and demand can shift in the modern retail environment. Before the pandemic, many brands relied on the "just in time" inventory approach, which dictates that you should only acquire inventory as soon as you need it. This method can work great, so long as there's always a reliable supply.
However, the pandemic sent shockwaves through the retail and consumer product goods supply chains, and we're still experiencing the fallout. At first, many countries and states placed a hold on "non-essential" manufacturing. At the same time, individual factories got hit with safety constraints such as fewer staff members on-site or even temporary shutdowns due to outbreaks of illnesses among workers.
Thus, suppliers were stretched to their limits and still feel the ramifications today. As the pandemic and other global events progressed, we've seen surprise shortages affect consumer goods across various sectors. Some of the widespread product shortages we've seen as of May 2021 include:
Computer chips, which were in short supply before the pandemic and are now facing additional supply chain challenges.
Plastics and palm oil used in many plastic products.
Lumber, with exacerbated shortages due to coronavirus-related shutdowns and a housing shortage.
Furniture, a product typically manufactured offshore and that now involves months-long delivery estimates.
Chicken, bacon and hotdogs, stemming in part from outbreaks at meat-processing facilities.
Imported foods such as olive oil, coffee and cheese.
Shipping containers, placing additional constraints on practically every supply chain.
Besides restricted supply, another constraint was the sudden boom in demand. Stay-at-home orders revolutionized consumer behavior trends, causing massive waves of pantry-stocking and a sudden increase in sales for products that could entertain people staying at home. Consumer-packaged goods sales jumped 9.4% in 2020, and many surprising product categories enjoyed a sudden spike in consumer demand, such as:
Hair dye
Webcams and radios
Baking yeast
Pet food, treats and supplies
Sporting goods
Musical instruments
Gardening equipment
Books
Despite the increased unpredictability, retailers are holding higher expectations for consumer goods brands. For example, in 2020, Walmart upped its on-time, in-full (OTIF) demands. Now, its suppliers must achieve a 98% OTIF delivery rate, a steep increase from the prior 70% requirement. CPG supply chains must adapt to catch up.
Solutions for Supply and Demand Challenges
Consumer goods brands now realize that just-in-time logistics introduces too much risk into the supply chain. When a sudden spike in demand or supply shortfall strikes, they must have enough inventory to compensate. It must be somewhere close to their retail partners so they can restock store shelves on a tight deadline and close to their consumers so they can continue selling online. Meanwhile, they must avoid the weeks-long delivery times of reordering overseas. As such, consumer goods companies are increasing their safety stock levels across the board.
Even with adequate safety stock, the current marketplace remains unpredictable, which underscores the usefulness of flexible warehousing space. Just as quickly as demand spikes, a product can fall out of consumer favor. Likewise, demand can rise and decline with the time of year. Thus, many brands need extra warehouse space during high demand and do not need it when consumer interest falls again. If such a company owned its warehouse, it might have extra space that goes to waste when sales are low.
With customized warehousing services from a partner like Crown LSP Group, your business can rent out the space they need for excess safety stock, whether it's to cover a temporary demand spike or a long-term solution. Renting warehouse space is more cost-effective for most businesses, as they can find the space they need for the amount of time they need. Building a warehouse is an expense that may not see a return on investment for as long as 30 years.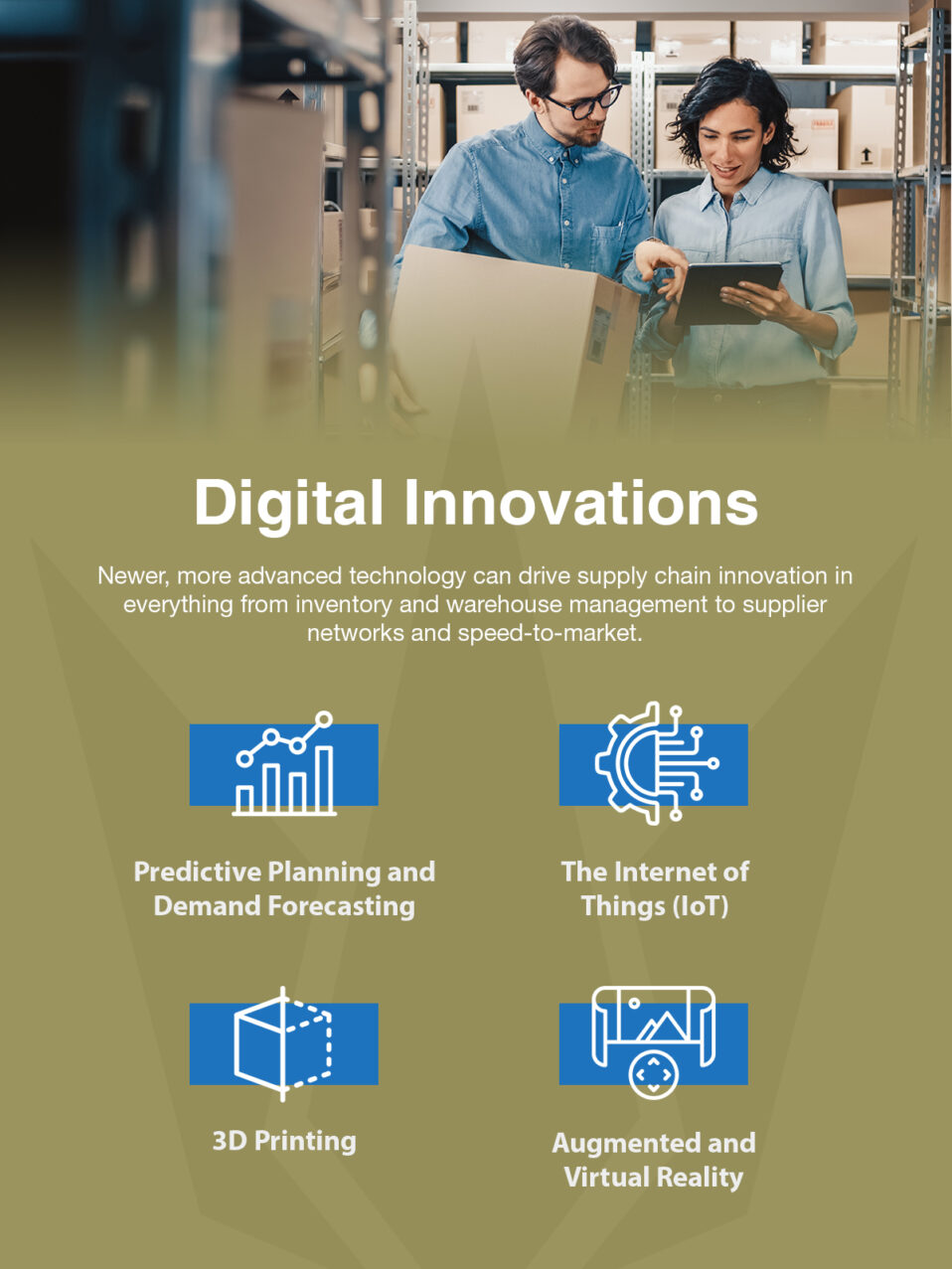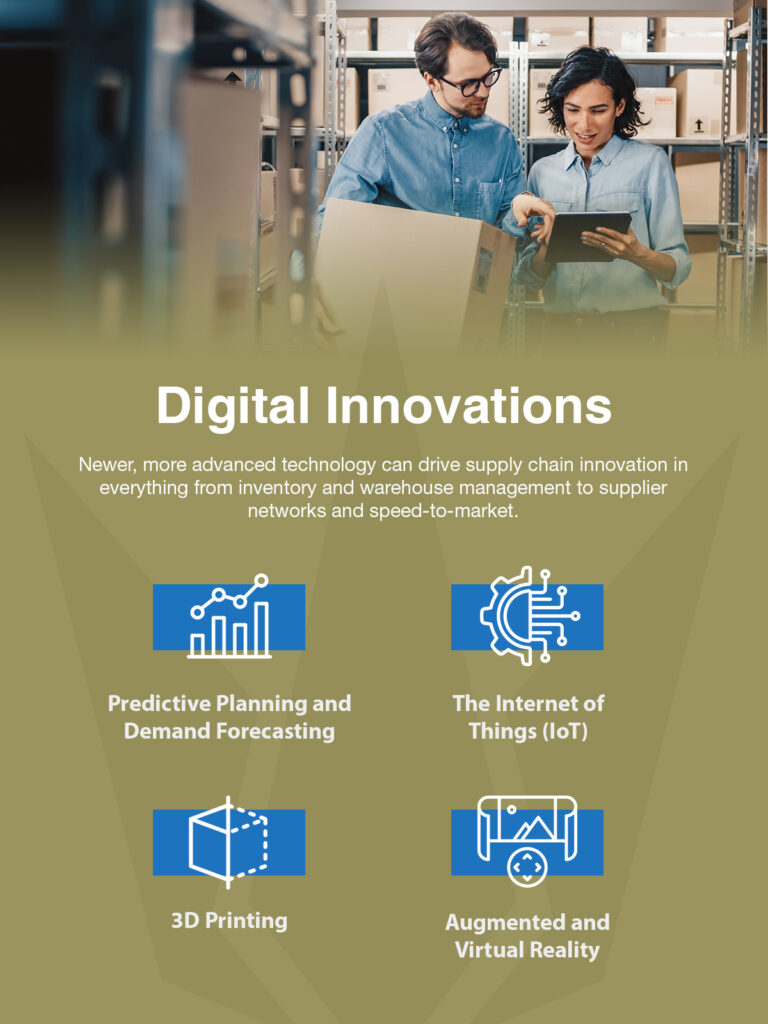 4. Digital Innovations
The modern supply chain is digital. Newer, more advanced technology can drive supply chain innovation in everything from inventory and warehouse management to supplier networks and speed-to-market.
Advanced analytics and artificial intelligence can make predictions and suggest courses of action based on microscopic changes in the market and logistics environment. This technology can predict future inventory needs, times when a supplier is at risk of becoming a liability or times when warehouse and assembly machinery needs servicing. Software-based consumer goods supply chain management can assist in scheduling operations to enable advanced processes such as cross-docking, efficient returns processing and digital inventory management. Transportation management systems can facilitate route and carrier selection to optimize transportation costs and reduce travel times.
Some of the top digital retail supply chain trends driving efficiency and innovation include:
Predictive Planning and Demand Forecasting
One of the most promising new technologies for the supply chain is predictive planning and forecasting tools. An impressive 56% of consumer goods and retail companies are planning investments in this technology. This software uses analytics, artificial intelligence and machine learning to increase supply chain visibility, uncover bottlenecks within the supply network and find new channels to address these shortfalls. They can also use data from many sources to predict changes in demand, allowing logistics managers to optimize inventory levels and plan reordering of schedules.
The Internet of Things (IoT)
In manufacturing, warehousing and other aspects of the supply chain, the IoT is a transformative technology. Sensors and IoT devices now let various machinery and equipment integrate and share data. One application of this in retail is that vending machines can have sensors that tell bottling plants about future restocking needs and indicate when it needs maintenance.
3D Printing
3D printing improves the supply chain by allowing companies to produce runs as small as a single product, made-to-order. It enables manufacturing to take place closer to the end customer and gives the customer options for customization. It also lets consumer goods companies produce both prototypes and finished products quickly, shortening the speed-to-market. By producing on-demand, companies can save on warehousing space for custom products and shorten supply chains.
Augmented and Virtual Reality
Besides the various product shortages affecting supply chains, the supply chain has also faced a labor shortage since before the pandemic. The manufacturing skills gap will likely leave 2.1 million jobs vacant by 2030. Labor shortages are also affecting warehousing and transportation jobs.
Augmented and virtual reality offer ways to close the gap by facilitating training modules, simulating complex, real-world scenarios in safe, virtual settings to close the skills gap. They can also allow managers, consultants and specialists to virtually visit a plant and offer their insights while working from home. This ability allows the logistics industry to offer an in-demand perk to jobs traditionally requiring a physical presence. Augmented-reality glasses can also let workers see real-time data about the plant and equipment.
Find Success in Your Supply Chain With Crown LSP Group
Keeping up with the latest supply chain trends is easy when you have a logistics partner you can trust. Let Crown LSP Group take on your toughest warehousing and transportation challenges. We're a third-party logistics provider who can handle your transportation and warehousing needs in North Carolina. We personalize all our solutions to our customers' unique needs and offer the flexibility, scalability and value-added services you need to stay competitive, no matter what supply chain challenges come your way.
Contact Crown LSP Group to discuss your needs and learn how we'll build a custom logistics solution for you.