In This Article
What Is Contract Warehousing?
A contract warehouse is a third-party logistics (3PL) storage facility that stores goods on behalf of a client. The client and the warehouse enter into a contract, which can range from months to years. The agreement may have a fixed fee structure or operate on a cost-plus model. Contract warehouses can also perform many other services, such as handling, packing, labeling, fulfillment and similar activities. Let's talk more about this potential solution for your long-term storage needs and how to find warehouse contracts that will work in your favor.
Contract Warehousing Defined
Many companies need to store their goods or supplies for various reasons, and contract warehousing is one of the many dedicated storage options to choose from. Companies that don't want to build, buy or rent their own warehouse space can enter into a third-party warehouse agreement with an outside provider who specializes in dedicated warehousing. This third-party warehouse provider will handle the storage, shipping and receiving of merchandise on behalf of their client. They can also add value by taking on more logistical tasks such as inventory management and making sure to follow distribution best practices.
Differences Between Contract Warehousing and Other Options
One of the main differences between contract warehousing and other popular options like shared warehouse space or private warehousing is that a contract warehouse is dedicated to a sole client. All the dedicated warehouse's resources and the entire facility go toward one company's goods. The tenant commits to occupying that fixed space and relies on the contract warehouse to manage it. Because of this factor, contract warehouses usually require their clients to commit to a specific contract length, often months or years.
There are two other variations on the contract warehousing model. The first is when the contract warehouse company owns the physical facility and allows the tenant company to operate it with their own employees and equipment. In the other alternative, the client owns or leases the warehouse facility and hires a contract warehouse to staff it and handle all operations. Contract warehouses may also parcel out a larger facility for several contract clients. In this arrangement, the contract will dedicate a certain amount of square footage and resources to each client.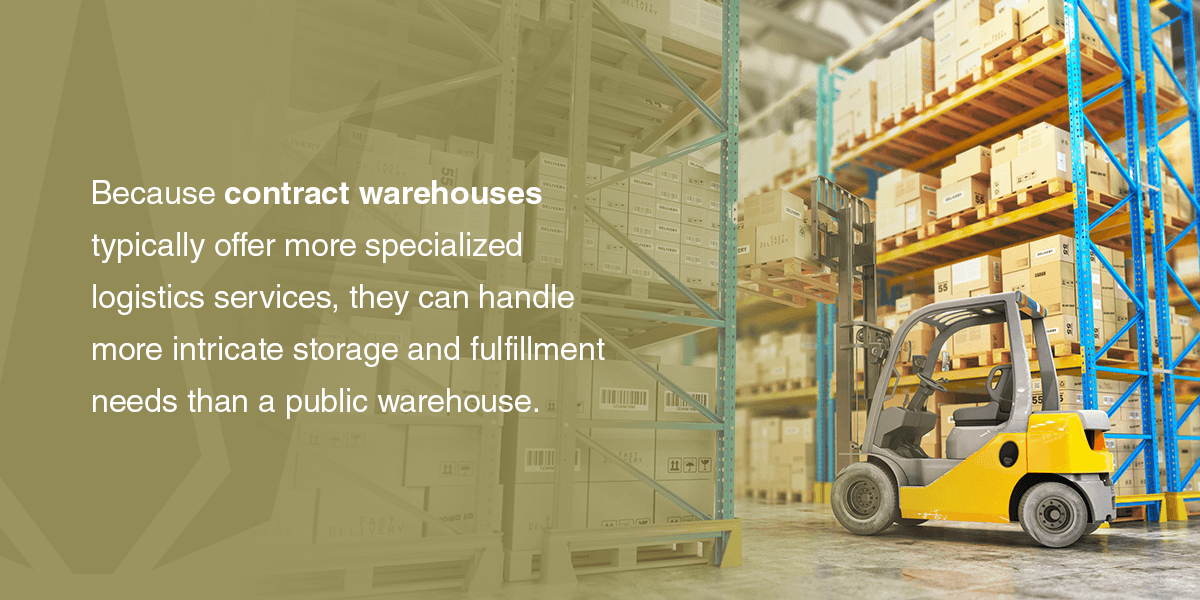 Types of Warehousing Options Explained
When your business needs more storage capacity, you have three types of warehousing options. They include:
Benefits of Contract Warehousing
For many customers, contract warehousing is the perfect balance between the total freedom and control of owning a private warehouse and the low cost and low involvement of using a shared warehouse. Some of the advantages of third party contract warehouse agreements include:
1. Lower Capital Investment
Consider that in New York City, it cost an average of $117 per square foot to construct a new warehouse or logistics center. The average newly built warehouse is just shy of 185,000 square feet, so constructing a new warehouse is typically a multimillion-dollar investment. While real estate costs are a little lower here in North Carolina, warehouse investments are too costly for most businesses to justify. Setting up an existing building for warehousing also requires investments in warehousing equipment like forklifts.
When you choose to contract your warehouse space, the warehouse space is readily available without the high cost of construction, renovations or equipment. When you hire a warehouse, you can use it for a shorter time frame to meet your current needs. When your contract is up, you can choose to contract for more space if needed without another significant upfront investment.
2. Lower Costs and Fees
Contract warehouse companies are experts at what they do. Often, they can develop strategies to make your storage, logistics and fulfillment more efficient, resulting in cost savings. For example, at Crown LSP Group, we can perform transportation and logistics services alongside value-added warehousing services. By keeping all these operations under one roof, where an expert logistics team can manage everything closely, you'll save money and time.
Meanwhile, when leasing or owning a warehouse, the property usually comes with many fees and expenses. Utilities, building maintenance and property taxes can all add unpredictable costs to your monthly bills. When you choose a contract warehouse, all the costs you'll incur will appear upfront in your written warehousing agreements. You can enjoy predictable overhead and share costs like utilities and maintenance with other contracted clients.
3. Value-Added Services
One excellent benefit of a contract warehouse over a public warehouse is that it can provide a dedicated workforce. While a public warehouse is mostly concerned with keeping its storage at full capacity, a contract warehouse knows it can rely on predictable storage needs and assign more resources to individual clients. For example, some companies need temperature-controlled storage facilities, which require expert monitoring from dedicated staff members. When you have a contracted staff committed to managing your goods, they can also offer other valuable services such as: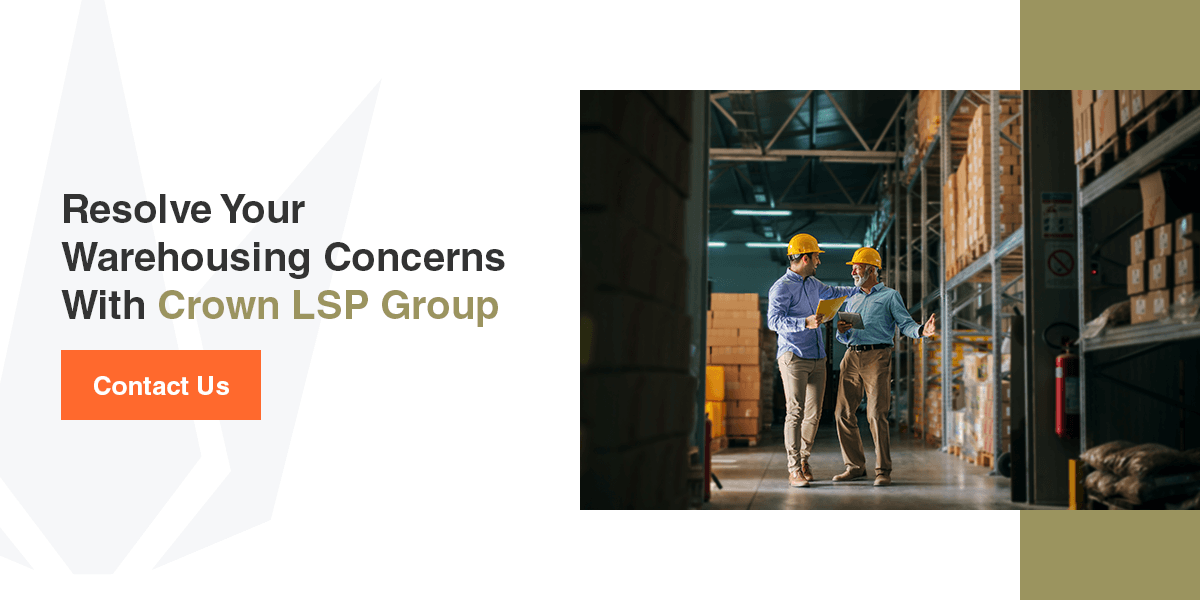 Resolve Your Warehousing Concerns With Crown LSP Group
Crown LSP Group is flexible, reliable and committed to finding the solutions that work best for you. We recognize that while most businesses benefit from using a 3PL contract warehouse, every company uses these services a little differently. As your expert warehousing partner, we'll act as an extension of your staff and personalize our solutions to serve your operation best.
We have the contact warehouse capabilities to accommodate several locations across the east coast. These include contact warehouse space near:
Learn more about contracting warehouse space through Crown LSP Group and reach out online to request a quote.