What Is Warehouse Automation?
Warehouse automation is the process of moving products into, out of and within a warehouse with minimal handling by people. Automation takes advantage of technology to complete repetitive tasks, track inventory and increase efficiency.
For example, an automated distribution center may use radio frequency identification (RFID) tags to map inventory movements or locate goods. When a worker moves products from storage to shipping — or vice versa — automated trackers detect these changes. Once items pass by sensors, a software program automatically logs their journeys. As a result, stock counts are current and a warehouse operator can pinpoint product locations with a few clicks.
Today's warehouse automation solutions offer significant benefits and options like robotics, blockchain technology, big data and more. These alternatives enable businesses to lower expenses, improve productivity, advance safety and maintain accurate records.
Benefits of Using Automation in Warehouse Operations
Automating warehouse operations provides businesses with advantages like reduced outlays, efficiency, security and more informative stock logs.
Lower Costs
A primary benefit of automating a distribution center is its direct impact on a business's bottom line. Investments in automating technology lower a company's overhead by replacing inefficient human processing with advanced solutions. As a result, labor costs and energy usage decrease. Options like automatic product retrieval enhance revenue by reducing picking errors and the time associated with manual methods.
Higher Workforce Productivity and Safety
Attract and retain the best in industry talent by embracing technology options that increase employee satisfaction and workplace safety. Automation solves heavy lifting and repetitive motion challenges, reducing injury risk and increasing output.
Crown LSP Group provides comprehensive on-site warehouse services in your facility with crews experienced in the latest automation technology.
Inventory Accuracy Increases
Using automation for your warehouse stock optimizes your efforts to support your customers. Robust applications track, pick and ship products with greater accuracy, simplifying inventory management and auditing. Crown LSP Group offers integrated warehouse management systems with our customized storage solutions to help your company capture these benefits.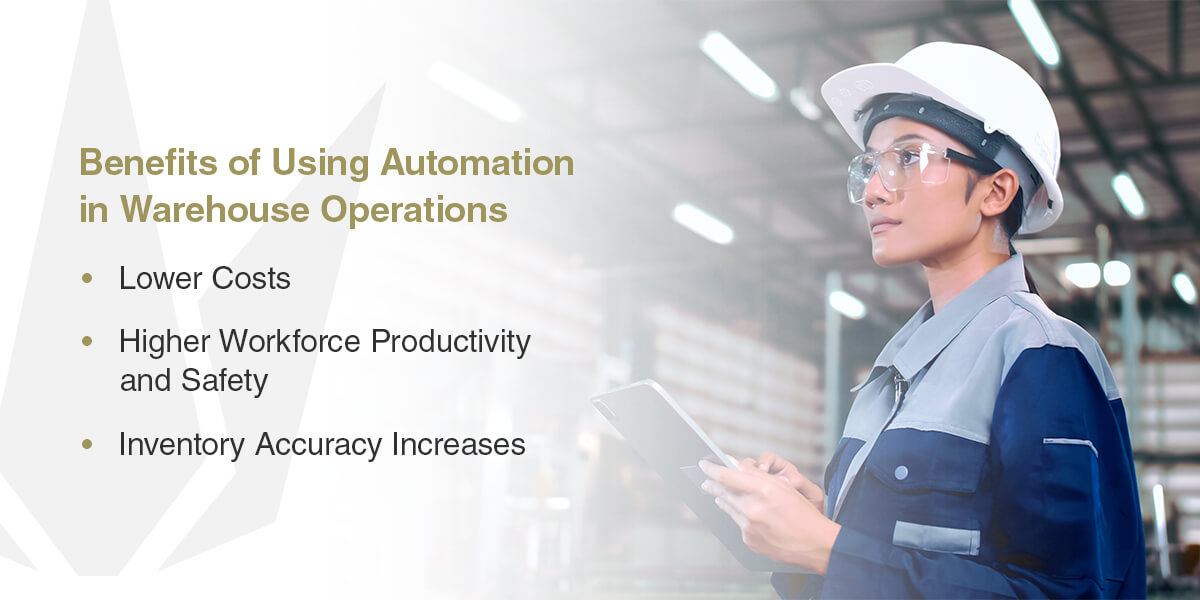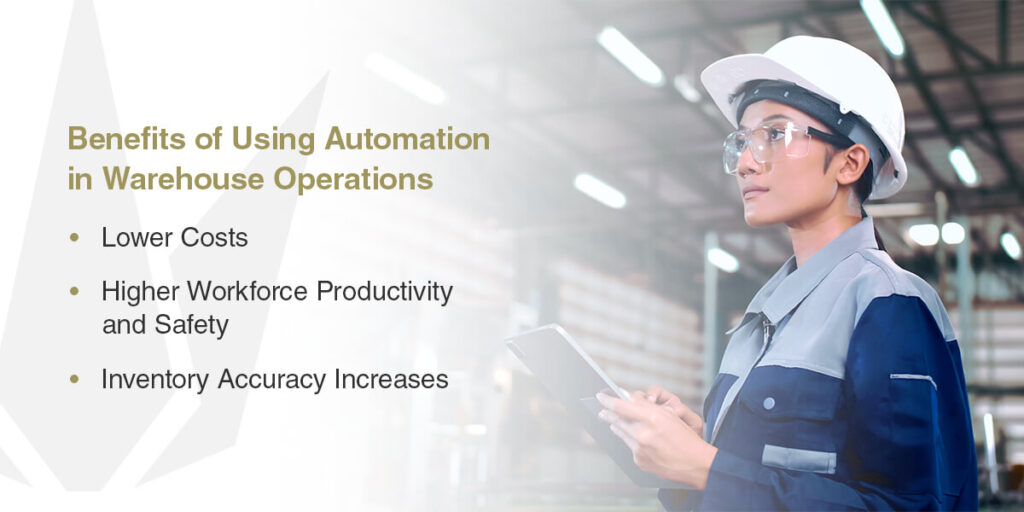 Types of Warehouse Automation and AI
Warehouse automation examples span the landscape, from robotic options to devices that communicate online to analytical data and blockchain technology.
Robotics
Robotic warehouse automation has grown significantly recently, for good reason. These solutions help improve job satisfaction and productivity while reducing errors. Common types of robotic automation include:
Automated guided vehicles (AGVs): Many use AGVs for goods transportation, either moving products between storage locations or from one department to another. These robotics require assistance with movement execution, usually via preprogrammed pathways.
Automated storage and retrieval systems (AS/RS): This complete system processes the entire order from picking to delivery. Since workers remain stationary, AS/RS automation delivers safety and efficiency with little potential for error.
Autonomous mobile robots (AMRs): These robots are more complex machinery, able to undertake movement on their own using sensors and maps. Their advanced programming makes them ideal for inventory scanning and tracking applications.
Blockchain Technology
Blockchain technology rose to fame with the advent of Bitcoin as a secure method to link blocks of data together and prevent alteration. In warehouse applications, blockchain joins various stakeholders along the supply chain with an accessible, secure platform for management and communication.
The technology pairs well with the Internet of Things (IoT) to check conditions at different points along a product's journey, creating an immutable ledger. Blockchain can also ease vendor payments via its Smart Contract functionality. For example, once a distribution center receives goods and confirms their condition, the purchasing agent verifies it through the system. The embedded code then self-executes and releases payment directly on the blockchain, completing settlement quickly and with high degrees of transactional security.
IoT
Robotics represents only one component of the IoT. Many other devices — such as sensors, GPS units and temperature-monitoring equipment — fall into this category. Other typical connected device applications include:
Employee monitoring: Outfitting employees with wearable IoT devices allows center management to gather production data, pinpoint worker locations and provide extra safety measures, such as alerting the employer to a fall.
Equipment maintenance: Smart equipment uses an internet connection to report its condition. These machines can issue scheduled upkeep reminders and send error codes directly to qualified personnel for faster repair service.
Transportation: One of the most vital segments of the supply chain gets a big boost from IoT in GPS devices. These units ensure a driver follows the most efficient travel routes and provides real-time arrival estimates for better inventory management. Partner with Crown LSP Group for comprehensive transportation services with the latest in IoT transportation technology.
Big Data
Big data helps more than retail organizations — it supports best inventory management practices in warehousing. Ways analytics benefit the inventory management process include:
Demand prediction: Rely on customer behavior metrics to more accurately anticipate and adjust to shifts.
Efficiency boosts: Use your analytics to identify underperforming employees or machinery.
Replenishment management: Examine overstocked and understocked items to effectively manage product availability and turnover.
Loss prevention: Investigate and prevent shrinkage by using metrics to pinpoint the locations that need more security measures.
Recall acceleration: Get proactive with product recalls by using data to track inventory from its production to the end-user, enabling quicker contact and better brand perception.
Conclusion
Available options for automation and AI in warehouse operations today include big data analysis, blockchain programs, robotics, and the IoT. The advantages of an automated warehouse provide significant opportunities for businesses to increase their workers' production, maintain a safer work environment and improve recordkeeping while lowering costs.
Crown LSP Group welcomes the challenge of devising an ideal solution to your business's warehousing needs. We're a family-owned company with over 30 years of experience as a full-service third-party logistics partner. Discover how our expertise benefits your organization's bottom line while solving supply chain issues. Contact a Crown LSP Group representative today and experience what a can-do attitude can do!