Where your products are stored is as important as how your products get to their destination. That's why Crown LSP Group provides long- and short-term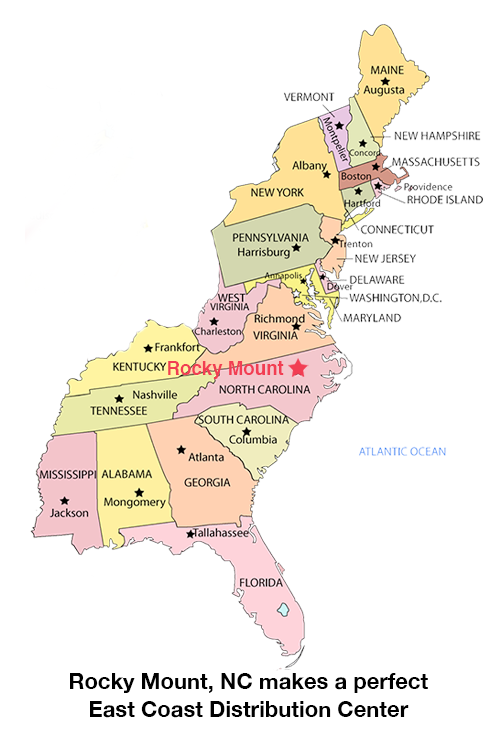 storage in secure, temperature-controlled facilities with the latest fire-prevention systems. We also offer Warehouse Management Systems (WMS) with bar-code capability to ensure your products are always where you need them, when you need them.
Prime Location
Crown LSP Group is strategically positioned in Rocky Mount, NC at the intersection of the I-95 corridor and US-64; also providing quick access to I-85 and I-40.
Our warehouses are located within 12 hours of three-fourths of the US population, making our "crossroads" location ideal for any company wanting to operate an east coast distribution center.
We are convenient to Wilmington, NC and Charleston, SC seaports, and only a two-hour haul from the Hampton Roads / Norfolk, VA port. (The cost of moving freight inland to Rocky Mount equals the Hampton Roads/Norfolk port drayage cost and better positions goods for faster distribution.)

Storage… Have it your way.
Crown offers standard contract warehousing arrangements on our existing properties and will build to suit your special requirements. Crown also offers management and workforce options that may work better for your company.
Crown can lease an entire warehouse, or a designated area within one of our warehouses to your company, and you can provide the management and workforce to operate the warehouse.
Warehouse Features
Crown LSP Group warehouses include the following features:
Short- and Long-Term Storage
Temperature-Controlled Space
24-Hour Video Security Monitoring
Sprinkler Systems
Fully-Integrated Warehouse Management Systems (WMS)
Bar Code Capabilities
Find out more!  Contact us at 252-985-1070 and let us know how we can help you.