Winter weather can be hard on the supply chain, from blizzards to freezing rain to brittle cold snaps. Cold weather can affect supply chains in many ways, including disruption in transportation routes, damaged cargo, and sudden power outages. Businesses can prevent costly delays and fulfill orders efficiently by planning ahead for the impact of winter weather on supply chains.
This guide to preparing supply chains for winter discusses the importance of planning ahead for winter and some of the top ways cold weather affects the supply chain. We'll also provide tips on preparing your supply chain for winter weather and the benefits of partnering with a trusted third-party logistics provider for all your winter transportation and logistics needs.
Importance of Preparing Your Supply Chain for Winter
When entering the winter season, it's important for businesses to prepare for the changes that come with cold weather and changes in consumer behavior. Preparing your supply chain for winter challenges ensures your business remains successful and can weather any storm ahead.
Here are some of the top reasons why it's important to prepare your supply chain for winter:
Prevent increased overhead costs: As the season changes and temperatures drop, the ability to keep a steady supply chain is disrupted. These disruptions lead to companies needing to make additional expenditures to support their supply chain efforts, including additional labor. To minimize unexpected increases in overhead costs, companies must prepare for potential winter disruptions.
Keep goods secure: Preparing your supply chain for winter is critical to ensure you have enough warehousing space to store goods as needed. Disruptions in the supply chain can cause goods to become backed up at certain distribution points. Securing enough warehouse space can help protect your goods and keep them safe while transportation routes clear up.
Meet customer demands: Failing to prepare for winter supply chain challenges can lead to disruptions in customer service and maintaining customer relationships. To meet customer demands and expectations, prepare ahead of time for some of the potential challenges during the winter season.
Planning for winter supply chain challenges will reduce impacts on your bottom line and improve customer satisfaction.
Supply Chain Challenges During Winter
To prepare for supply chain challenges during the winter season, it's critical to be aware of the most common issues impacting businesses this time of year. The major difference between the winter supply chain and supply chain practices the rest of the year is the cold weather that causes freight transportation and delivery delays.
In addition to weather, businesses face other unique challenges during the winter that can affect supply chain management. Knowing what to expect can help your business acquire the necessary resources and assistance for a successful winter supply chain.
Below are the top supply challenges during the winter.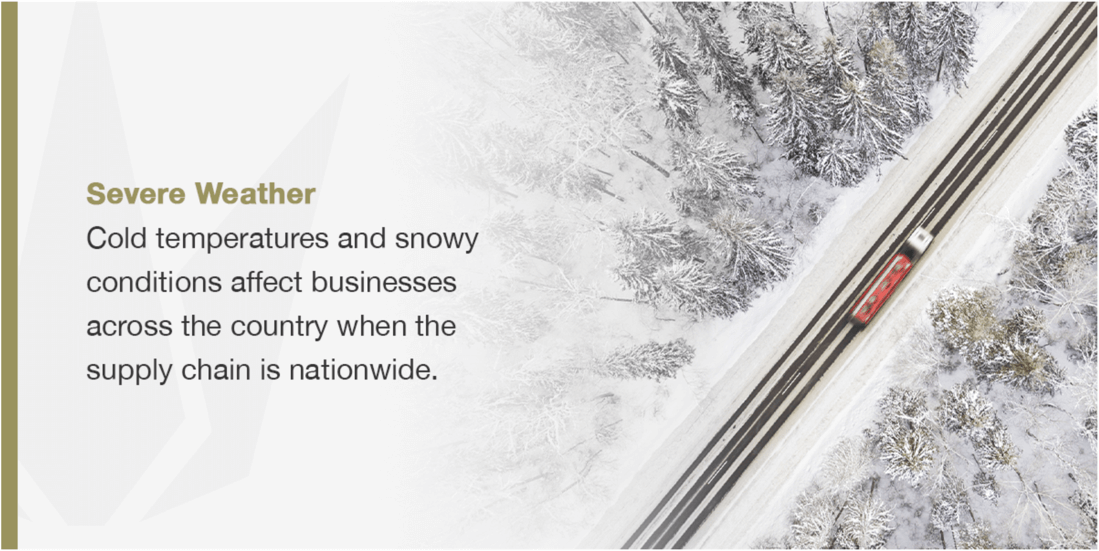 Severe Weather
The biggest threat to the supply chain during the winter is the risk of extreme weather. Though some regions face more extreme winter weather than others, cold temperatures, and snowy conditions affect businesses across the country when the supply chain is nationwide.
Some of the major impacts of winter weather on supply chains include:
Road closures due to snow and ice delay freight trucks
Extreme weather that grounds cargo planes
International delays in cargo flights, ground transport, or sea freight due to weather in other countries
Power outages that affect distribution centers and warehouses
All of the above winter weather hazards can result in delays, accidents, and safety risks that impact the supply chain.
Increased Holiday Demand
Another one of the challenges of the supply chain during the winter is the increased consumer demand that occurs ahead of the holidays and in the months afterward. There is a general nationwide increase in demand during the holidays and an increase in demand for certain types of products that require unique warehousing and transportation needs.
It's crucial to know the type of demand your business can expect during the holiday season to plan for your increased supply chain needs. Using forecasting tools can help you predict holiday demand based on the records from previous years.
Longer Lead Times
The combination of severe winter weather and increased seasonal demand creates a ripple effect that impacts the rest of the supply chain. As a result, it's important to anticipate winter's impact on the supply chain timeline. Many businesses experience longer lead times during the winter, as it can take longer for trucks to turn over products to and from the warehouse and delivery points.
While it's difficult to predict from year to year just how much winter weather and demand will impact the supply chain, you can mitigate the risk of these delays by setting the expectation of longer lead times.
Warehousing Shortages
When consumer demand increases in the lead-up to the holidays, it can create a shortage in warehouse space across the country. When companies fail to plan ahead for an increase in consumer demand, they often are left scrambling to find ways to warehouse goods strategically in anticipation of increased customer orders.
Additionally, when winter weather impacts major transport routes, warehouse turnover rates slow down, leading to a backlog of goods that would otherwise already be out for delivery. This creates a bottleneck in the supply chain that further impacts lead times and drives up supply chain costs.
Increased Transportation Costs
When winter weather impacts the supply chain, the net result is an increase in operational costs, particularly in the cost of trucking or transportation. When demand starts to exceed supply, this naturally results in an increase in the cost of all goods related to the supply chain. From fuel to labor to shipping containers, supply chain cost increases affect all areas of logistics.
Because the increased costs associated with a lagging supply chain get passed on to the customer, it's important to prepare financially for the effects of the winter supply chain.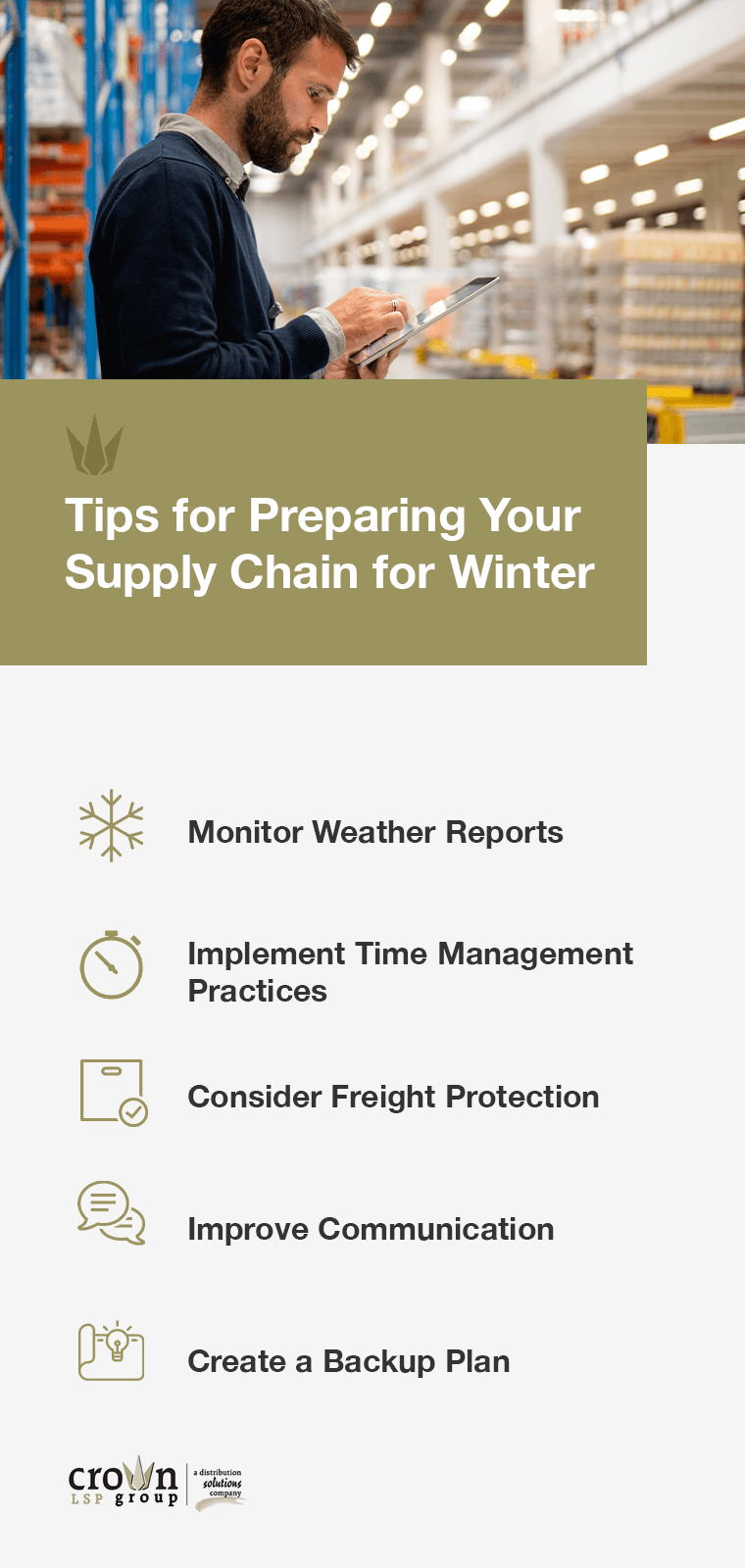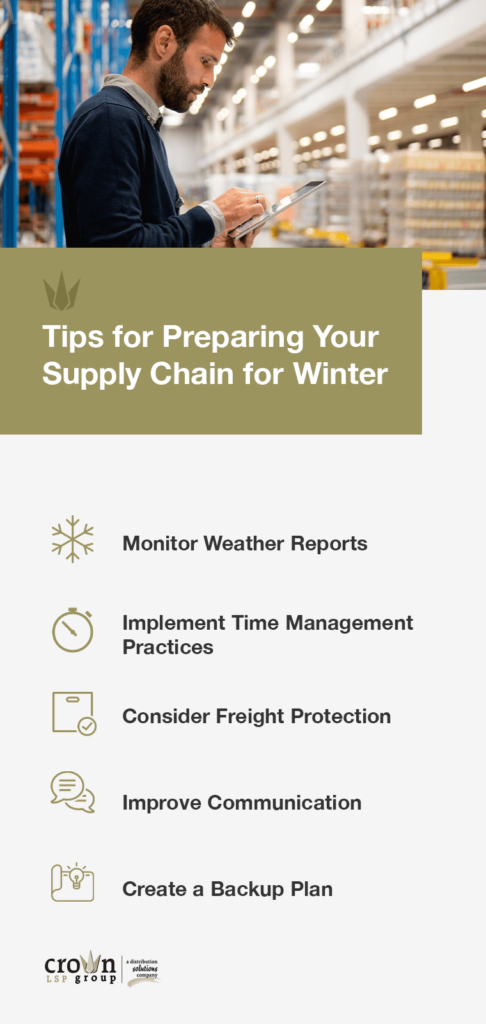 Tips for Preparing Your Supply Chain for Winter
Despite the challenges that winter weather and holiday demand cause for businesses and their supply chains, there are concrete steps you can take to mitigate these issues. Preventing winter weather from impacting your supply chain starts with preparation. Knowing which issues arise during the winter ahead and how to plan for them can determine business success.
Here are some of the top tips for preparing your supply chain for winter.
1. Monitor Weather Reports
Keeping your pulse on regional weather reports is one of the smartest ways to prepare supply chains in winter weather. By monitoring weather reports, you can be alerted to some of the weather patterns impacting key areas of your supply chain. You'll become aware of weather issues such as extreme cold and ice that can delay truck traffic and cause collisions. You'll also be able to anticipate any forthcoming blizzards that might interrupt the power grid.
If you rely on air cargo as part of your supply chain, following commercial and cargo airline delays can also help you predict and react to disruptions. As you continue monitoring the weather, adjust operations as necessary to accommodate interruptions. This can include rescheduling workers or updating shipment tracking information.
2. Implement Time Management Practices
While you can't do anything to change the weather or consumer demand, you can implement strategic time management practices that will help alleviate pressure from the supply chain. When shipping to regions with known inclement weather patterns, set longer lead time expectations with customers. This allows you to buy time to explore other routes or logistics options without affecting the customer.
Because severe weather can cause closures at ports, runways, and highways, it's critical to have a flexible schedule that can incorporate other solutions that still meet customer demands. Setting realistic timelines can reduce the impact of delays and decrease the number of shipping errors.
3. Consider Freight Protection
How does cold weather affect the supply chain? Unpredictable winter weather does more than impact the ability to transport cargo. It can also impact the goods themselves. Certain types of goods may be more susceptible to damage with sudden temperature drops. Cold and freezing weather can damage goods like precision instruments and appliances, perishable foods, chemicals, and paints.
When preparing supply chains for winter, be sure to consider whether your goods are temperature-sensitive and what additional protection they may need to arrive safely. Most trailers aren't temperature-controlled and cannot protect goods from freezing weather. Arrange to have sensitive products shipped in climate-controlled trailers for guaranteed freight protection.
4. Improve Communication
To ensure your supply chain functions properly in cold weather, businesses need to have excellent communication among their own staff and outside warehousing and logistics partners. It's also important to maintain communication with the customer.
If extreme winter weather is anticipated, ensure each point along the supply chain is up to date with new procedures and contingency plans. Having transparent communication with your logistics partners provides you with peace of mind and more control over your operations. This allows you to update your customers in time should any shipping delays occur.
5. Create a Backup Plan
Though it's hard to predict the impact of winter weather on supply chains, it's still possible to prepare for potential delays by creating a contingency plan. When creating a winter weather supply chain backup plan, it's important to know whether you will adopt alternate modes of transportation and logistics. Alternatively, you may be able to split your loads across multiple different modes of freight to minimize disruptions.
As part of your contingency plan, it's important to budget for the possibility that you will need to switch to an alternate mode of transportation that costs more. By planning ahead, you can have the financial and logistics strategy to accommodate weather delays.
Benefits of a 3PL for Your Winter Supply Chain
For businesses to thrive, they need reliable systems and processes for streamlined order fulfillment. Efficient order fulfillment ensures businesses can meet their customers' needs and continue to grow their sales. However, fulfilling orders can become increasingly more difficult to do in-house, especially during challenging winter weather when the supply chain is impacted.
Turning to a third-party logistics (3PL) provider like Crown LSP Group for help with order fulfillment can help businesses overcome winter weather supply chain issues. 3PLs provide an array of logistics and supply chain management services that support businesses in managing and moving goods to their final destination efficiently and securely.
Here are some of the ways 3PL services from Crown LSP Group can become an integral part of your winter supply chain.
Inventory Management
When you partner with a 3PL provider like Crown LSP Group, your business can rest assured that your goods will be properly managed and tracked at all times. When winter weather delays the supply chain, businesses need real-time information about the status of their goods to ensure open communication with the client.
3PL providers are able to transport your goods in safe and secure truckloads and track them at every stage using GPS technology. This ensures that businesses are always informed about the flow of goods and when shipments are delayed or on the way.
More Transportation Options
Part of winter supply chain planning is knowing what additional or alternative modes of transportation you may need to rely on when bad weather impacts logistics. 3PL partners can take on this responsibility, freeing up businesses from finding alternative transportation and logistics solutions on their own.
3PLs are experts in supply chain transportation solutions and can offer creative solutions in the event of inclement winter weather. 3PL providers at Crown LSP Group can offer less-than-truckload (LTL) shipment solutions, which allow businesses to save money and maintain productive lead times.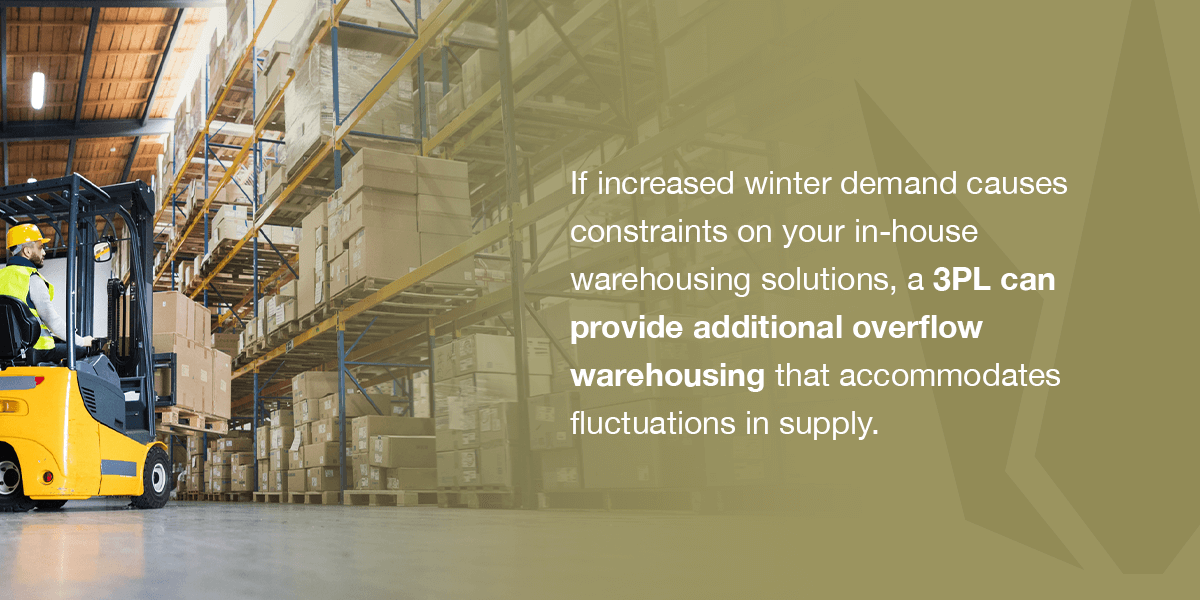 Warehousing Overflow
If increased winter demand causes constraints on your in-house warehousing solutions, a 3PL can provide additional overflow warehousing that accommodates fluctuations in supply. Relying on a trusted 3PL for warehousing services helps businesses save time and resources, particularly with labor and management costs.
Additionally, 3PL warehouses are strategically located, ensuring your goods can be housed and shipped from a location that mitigates delays, including weather-related disruptions.
Improved Safety and Security
One of the supply chain issues that businesses face during the winter is the impact of freezing temperatures and hazardous conditions on the safety of goods. To ensure your goods are transported, stored, and managed safely and securely, rely on a trusted 3PL.
Professional 3PL services from Crown LSP Group offer integrated technology and systems to keep track of your goods and ensure their safe transportation and arrival. With warehousing services, 3PLs can provide the safety and security your goods need, including temperature-controlled storage.
Contact Crown LSP Group for Help Preparing Your Supply Chain for Winter
Preparing supply chains for winter requires advanced planning and effective logistics strategies and solutions. Knowing the common issues that impact supply chains in the winter can help you prevent logistics disruptions and delays. To keep your supply chain running smoothly in the winter, getting the help, you need from a trusted 3PL partner is important.
Crown LSP Group is your third-party logistics solution for better winter supply chain management. We offer various transportation and logistics services to fit your supply chain needs. We have the flexibility and scalability you need to accommodate winter supply challenges. Contact us today for more information on our personalized 3PL solutions or request a quote.