While solar panels can take a beating from direct sunlight for more than 12 hours a day, they aren't immune to cracks, micro-cracks and other forms of damage during transportation and warehousing. In times when you need to store your solar panels in a safe and secure location with a third-party logistic (3PL) team, you can rely on Crown LSP Group.
How Does Solar Panel Transportation Work?
Although there is no universal standard regarding the loading, transporting, unloading and storing of solar panels, we know what it takes to get the job done in a way that replicates an extension of your current business tactics. Crown LSP Group works with you to understand your precise requirements to create a customized solution for warehousing solar panels.
How Do Solar Panels Work?
Solar panels are devices that convert energy from the sun into electricity — often for residential and commercial zones. However, solar panels can also provide energy for individual homes in remote areas or even satellites.
Each solar panel is made of solar cells. Elements like phosphorus, silicon and boron make up each cell and work together to form energy via the photovoltaic process. When boron forms a positive charge and phosphorus forms a negative one, the cells absorb the sun's photons. From there, these three chemicals pull the electrons into a current, releasing energy for electricity.
Solar panels are a sustainable and renewable alternative to coal and natural gas. Their environmental benefits and their ability to reduce our reliance on fossil fuels are major reasons for their growing popularity.
How to Properly Ship, Handle and Store Solar Panels
Shipping solar panels and storing them safely is a process that unfortunately doesn't have industry standards across the globe. But here at Crown LSP Group, we have designed a detailed and stringent process to ensure your solar panels are securely handled.
Challenges in Transporting Solar Panels
In general, transporting solar panels is challenging because they are fragile and heavy. The key for storing solar panels is to protect them from the weight of each other and external transportation damage.
We uphold unique solar panel loading, transporting and unloading stipulations at Crown LSP Group. We understand that solar panels are sensitive components that, when under even slight pressure, can experience micro-cracks. As a result, these minute damages can affect how the entire system operates. Several negative effects of micro-cracks include:
Decreased lifespan
Electrical separation
Hot spots
Inactive cells (power loss)
Solar panel performance
How to Ship Solar Panels Safely
Stacking solar panels horizontally can cause damage to each panel that you can't always see. If possible, you may be able to spot micro-cracks in a panel from a change in color, making it darker than the rest of the unit — but this is only out of luck. More often than not, micro-cracks go unnoticed and grow over time, and they eventually become even more detrimental defects.
Vertical stacking is a method that can form minimal pressure on the modules when stacked on a pallet. This strategy reduces top-to-bottom pressure and the stress of large amounts of weight.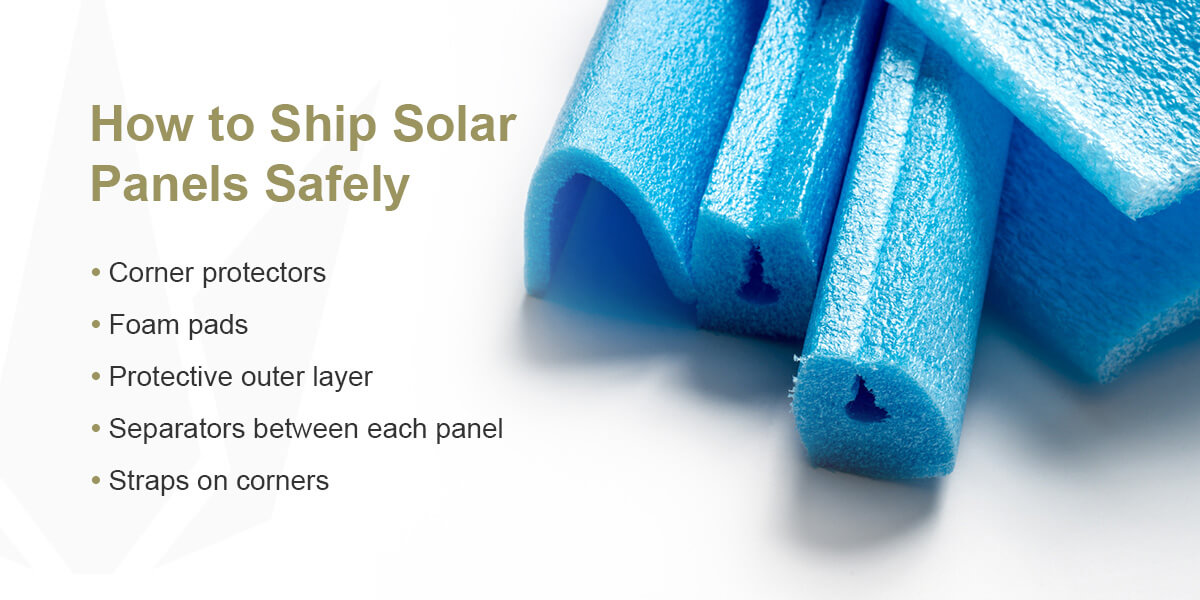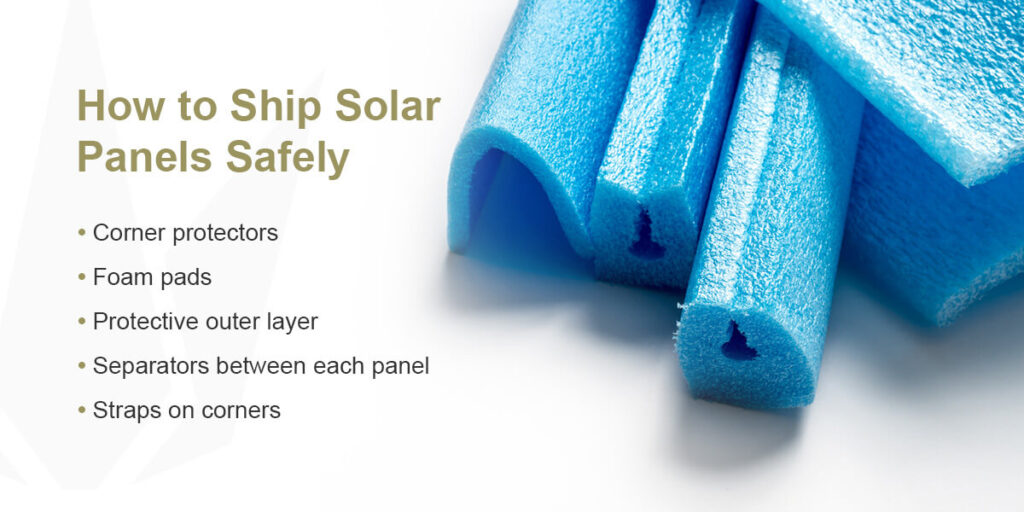 Other components that can help protect solar panels in storage include:
Corner protectors
Foam pads
Protective outer layer
Separators between each panel
Straps on corners
Crown LSP Group has high standards in place to prevent even the tiniest of scratches. We ensure each panel is secure so that there is no room for movement, keeping individual units protected during transportation.
Knowing how to store solar panels in a warehouse is a technique that ensures each panel is free from cracks and other damages.
Partnering With the Right 3PL
Partnering with the right 3LP for your solar panel transport and warehousing needs is critical to keeping each unit secure and ready for consumers. The right partner will understand that solar panels are high-value items that are delicate and require careful storage.
They should also cater to your unique solar panel needs and understand the care that's necessary to prevent any damage. Your panels should arrive safely at the warehouse and be stored properly until you need them.
Whether you're transporting and storing an entire truckload of solar panels or several at a time, proper processes are essential for delivering your products on time to consumers.
How Crown LSP Group Can Provide Third-Party Logistics Solar Panel Solutions
Crown LSP Group protects your solar panels every step of the way.
We implement storage techniques that can withstand mechanical stress and heavier loads than normal to safeguard each panel from damage, dents, cracks and micro-cracks. Our experts are here to manage your inventory and prepare outgoing products for you or your consumers when needed while also offering climate-controlled storage solutions if necessary. We help transport panels to and from the warehouse while delivering additional benefits, such as:
Ability to handle MBLs
Exceptional understanding of load configurations
Mobile scanning equipment
Reports necessary for you and your customers
Special equipment to accommodate oversized pallets of solar panels
Specialized forklifts and equipment (damage-free handling)
Our transportation department also supports the moving of pallets to your job site and bringing in containers from the port. To date, Crown LSP Group has supported about 40,000 pallets of solar panels with previous customers.
Contact Crown LSP Group for Warehousing and Transportation Requests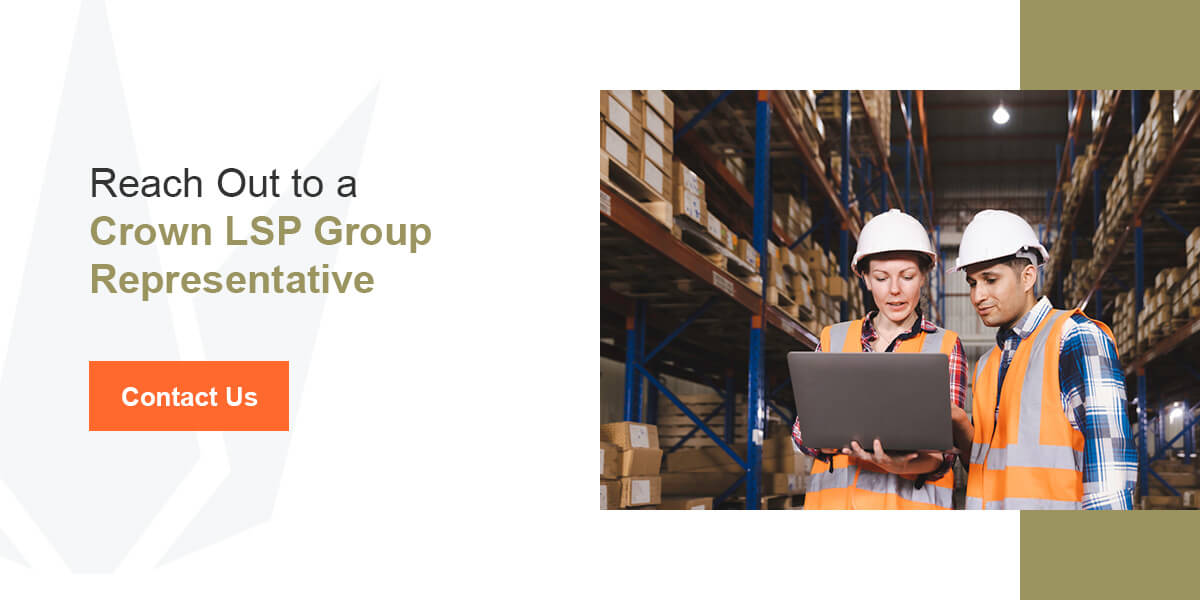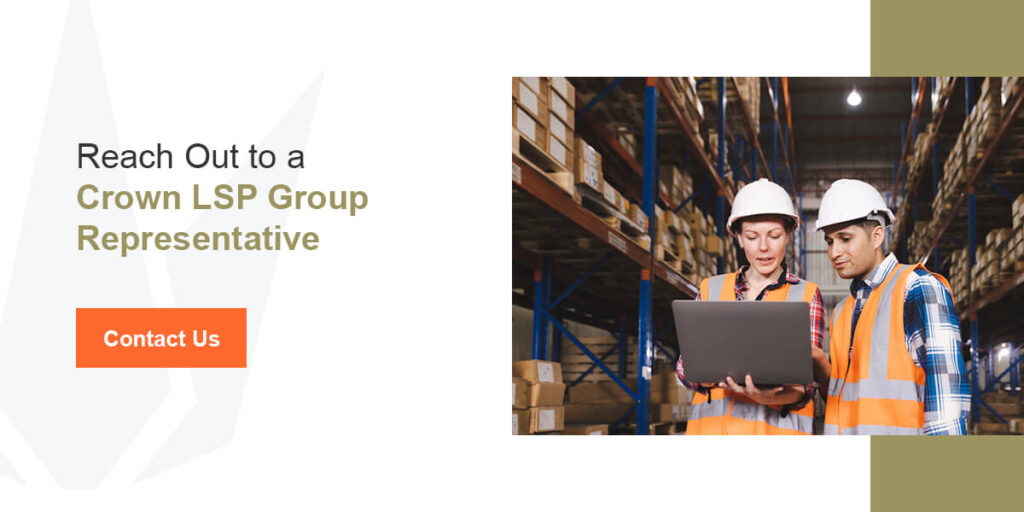 When you rely on timely deliveries to clients and need extra space for storing your solar panels, Crown LSP Group has you covered. As a family-owned business, we know what it means to take care of our clients and their products. Our goal is to create an extension of your business unit when transporting and warehousing shipments of solar panels. Whether you need to store panels for future use or need to transport materials, Crown LSP Group is here to work with you one-on-one.
Request a quote online or reach out to a Crown LSP Group representative to learn more about the transporting and warehousing solutions we offer.