Crown LSP Group is a logistics service provider dedicated to superior customer service.
Our goal is to provide the absolute best customer experience on every shipment, treating every job with a sense of urgency and providing exceptional attention to every detail in the process.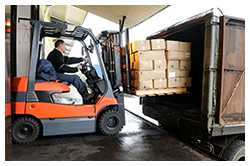 We work hard to earn the trust of our clients. And nothing helps to build long-term relationships faster than putting our clients' interests first – their needs, objectives and goals – while honoring our firm commitment to safety and security.
Crown offers the right assets, state-of-the-art technology, and professionals with the perfect blend of friendliness and a "Get It done" attitude. If you're interested in learning more about Crown LSP Group, please give us a call.
At the core of any successful logistics company is a team of dedicated administrative and operational staff, professional drivers, and hardworking warehouse personnel.
By providing competitive employment packages, we're focused on hiring professionals who are driven to offer our clients the very best experience possible.
If you're interested in joining a winning logistics team, please click on CAREERS.